At the Intersection of
Markets & Policy
Insightful Analysis for a Broad Audience,
Directly to Your Inbox
Our mission is to provide sophisticated financial market analysis that is independent, accessible, and actionable for a broad public and private sector audience. We are seeking to widen and deepen the communication channels between the policy community and global financial markets, thereby facilitating more informed policymaking and allocation of public and private resources.
Summary and Price Action Rundown Global risk assets were mostly higher overnight with some solid economic data supporting sentiment despite ongoing US-China tensions, while last week's strong earnings from IT giants look set to extend US equity gains despite uncertainty over the latest US pandemic stimulus bill. S&P 500 futures … Continue reading "Morning Markets Brief 8-3-2020"
Covid-19 infection rates, corporate earnings and the state of CARES 4 remain the top three things driving markets this week. The Chinese asset rally moves up to fourth, while the quickly weakening Dollar enters in the final spot.
SAMPLE PRO SUBSCRIPTION CONTENT
Summary and Price Action Rundown US equities resumed their tech-led uptrend today ahead of key earnings releases later this week, the dollar's ongoing downtrend accelerated, and investors continued to monitor signals from negotiations on Capitol Hill over the next pandemic relief bill. The S&P 500 retraced Friday's downside to edge … Continue reading "Afternoon Markets Brief 7-27-2020"
Looking Ahead – Do You Like Surprises? This year has featured a jarring array of unexpected events, most of them decidedly unpleasant, and market participants are bracing for more to come. To borrow Donald Rumsfeld's now-famous formulation, "unknown unknowns" are, by definition, impossible to predict, though nobody seems to be … Continue reading "Looking Ahead 7-17-2020"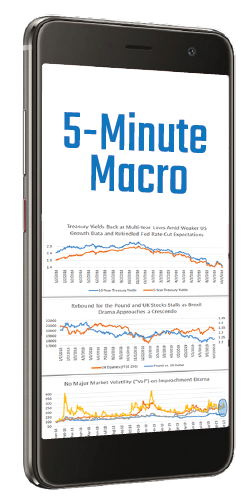 Markets/Policy PRO Package
Gain an informational advantage with the enhanced briefing package, featuring additional intelligence and deeper context; and directly leverage the unique expertise of our team, with bespoke insights, viewpoints, and outlooks to allow decision-makers in the public and private sectors to focus on the issues that truly matter.
Includes:
– Morning Brief (8 am)
– Afternoon Brief (5 pm)
– Five Minute Macro (midday Monday)
– Looking Ahead (midday Friday)
– Market Viewpoint (Sunday)
PLUS! Real Time Coverage of Exceptional Volatility
PLUS! Access to principals for ad hoc inquiries
*Please inquire for flexible subscription pricing options