At the Intersection of
Markets & Policy
Insightful Analysis for a Broad Audience,
Directly to Your Inbox
Our mission is to provide sophisticated financial market analysis that is independent, accessible, and actionable for a broad public and private sector audience. We are seeking to widen and deepen the communication channels between the policy community and global financial markets, thereby facilitating more informed policymaking and allocation of public and private resources.
Summary and Price Action Rundown Global risk assets are attempting to stage a rebound after two days of generally downside price action which followed a dovish Fed meeting and mixed US economic data. S&P 500 futures indicate a 0.1% higher open after the index lost 0.8% yesterday, paring its year-to-date … Continue reading "Morning Markets Policy 9-18-2020"
In this week's Five Minute Macro, the economy and the Pandemic continues to be the driving factor in markets, with a dovish Fed in second. Dollar depreciation moves up to third and Brexit and the Pound enters at fourth. Meanwhile, the next relief bill remains stalled in Congress. Also please … Continue reading "Five Minute Macro 9-14-2020"
SAMPLE PRO SUBSCRIPTION CONTENT
Summary and Price Action Rundown US equities gave up early gains today as the Fed decision provided no new upside impetus and tech underperformance reemerged, while investors monitored fiscal stimulus headlines and soft retail data. The S&P 500 lost 0.5% today, retracing yesterday's upside and paring its year-to-date gain to … Continue reading "Afternoon Markets Brief 9-17-2020"
Looking Ahead – Two Minute Drill The NFL season began last evening with an entertaining if uneven Thursday Night Football game between the Texans and the Super Bowl champion Chiefs in a partly filled Arrowhead Stadium, which provided sports fans with another encouraging step toward a semblance of normalcy. It … Continue reading "Looking Ahead – Two Minute Drill 9-11-2020"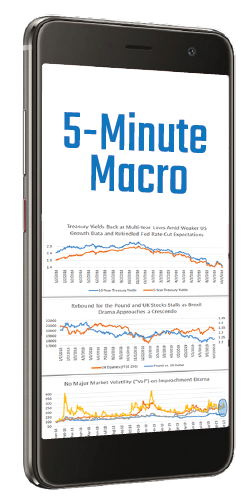 Markets/Policy PRO Package
Gain an informational advantage with the enhanced briefing package, featuring additional intelligence and deeper context; and directly leverage the unique expertise of our team, with bespoke insights, viewpoints, and outlooks to allow decision-makers in the public and private sectors to focus on the issues that truly matter.
Includes:
– Morning Brief (8 am)
– Afternoon Brief (5 pm)
– Five Minute Macro (midday Monday)
– Looking Ahead (midday Friday)
– Market Viewpoint (Sunday)
PLUS! Real Time Coverage of Exceptional Volatility
PLUS! Access to principals for ad hoc inquiries
*Please inquire for flexible subscription pricing options