At the Intersection of
Markets & Policy
Insightful Analysis for a Broad Audience,
Directly to Your Inbox
Our mission is to provide sophisticated financial market analysis that is independent, accessible, and actionable for a broad public and private sector audience. We are seeking to widen and deepen the communication channels between the policy community and global financial markets, thereby facilitating more informed policymaking and allocation of public and private resources.
Summary and Price Action Rundown Global risk assets remain under pressure this morning as investors continue to grapple with fears of a global pandemic and the potentially severe economic fallout thereof. S&P 500 futures indicate a 0.9% lower open to extend its four-session loss of 10.8% this week, which has … Continue reading "Morning Markets Brief 2-28-2020"
With infection rates accelerating, the Coronavirus Outbreak remains front and center along with Global Growth as the biggest driver of markets this week. The Federal Reserve and Global Central Banks expectations for further easing remains third. Safe Haven Status Fueling Dollar Appreciation enters the top five for the first time … Continue reading "Five Minute Macro 2-24-2020"
SAMPLE PRO SUBSCRIPTION CONTENT
Summary and Price Action Rundown US equities fell precipitously and added to the steep losses on the week as investors confront the risk that the coronavirus outbreak develops into a global pandemic. The S&P 500 fell 4.4% as the first case of the coronavirus in the US raised investor's fears … Continue reading "Afternoon Markets Brief 2-27-2020"
In times like these, as the saying goes, the tough get going. In financial markets, though, when the going gets tough, the Fed gets going, with rate cuts, accommodative forward policy guidance, even asset purchases (aka quantitative easing or QE). This is what market participants have come to depend on … Continue reading "Looking Ahead – When the Going Gets Tough…"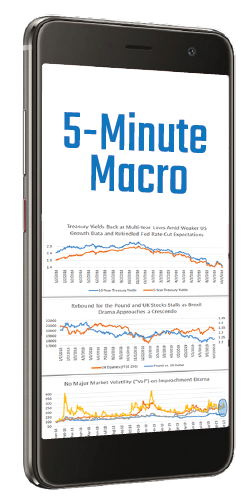 Markets/Policy PRO Package
Gain an informational advantage with the enhanced briefing package, featuring additional intelligence and deeper context; and directly leverage the unique expertise of our team, with bespoke insights, viewpoints, and outlooks to allow decision-makers in the public and private sectors to focus on the issues that truly matter.
Includes:
– Morning Brief (8 am)
– Afternoon Brief (5 pm)
– Five Minute Macro (midday Monday)
– Looking Ahead (midday Friday)
– Monthly Macro Chart Pack
PLUS! Real Time Coverage of Exceptional Volatility
PLUS! Access to principals for ad hoc inquiries
$1000/month