At the Intersection of
Markets & Policy
Insightful Analysis for a Broad Audience,
Directly to Your Inbox
Our mission is to provide sophisticated financial market analysis that is independent, accessible, and actionable for a broad public and private sector audience. We are seeking to widen and deepen the communication channels between the policy community and global financial markets, thereby facilitating more informed policymaking and allocation of public and private resources.
Summary and Price Action Rundown Global risk assets are mixed this morning as market participants digest last week's rally and ponder the outlook for inflation amid high and rising commodity prices. S&P 500 futures indicate a 0.1% higher open after the index advanced 0.7% on Friday to surmount the prior … Continue reading "Morning Markets Brief 5-10-2021"
China risks remain front and center while uncertainty around US infrastructure and debt ceiling move up to the second spot. Uneven economic data and rising oil prices along with inflation risks round out the top five spots.
SAMPLE PRO SUBSCRIPTION CONTENT
 Summary and Price Action Rundown US equities hit new records today as disappointing US jobs data eased overheating fears and reinforced the accommodative policy posture of the Federal Reserve, keeping Treasuries tame and sinking the dollar. The S&P 500 advanced 0.7% today to surmount last week's record high, taking year-to-date … Continue reading "Afternoon Markets Brief 5-7-2021"
Millions of pandemic-weary Americans are already eagerly looking forward to their vacations in July and August, but there is one summer getaway on the calendar that market participants are eyeing warily – the Federal Reserve's late August Economic Symposium in Jackson Hole, Wyoming. Last year, the virtual version of the … Continue reading "Looking Ahead – Home on the Range"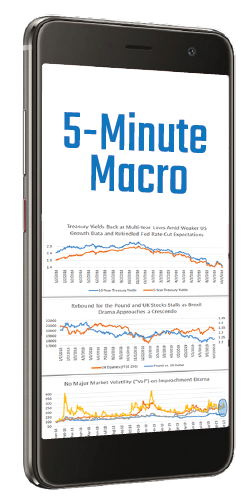 Markets/Policy PRO Package
Gain an informational advantage with the enhanced briefing package, featuring additional intelligence and deeper context; and directly leverage the unique expertise of our team, with bespoke insights, viewpoints, and outlooks to allow decision-makers in the public and private sectors to focus on the issues that truly matter.
Includes:
– Morning Brief (8 am)
– Afternoon Brief (5 pm)
– Five Minute Macro (midday Monday)
– Looking Ahead (midday Friday)
– Market Viewpoint (Sunday)
PLUS! Real Time Coverage of Exceptional Volatility
PLUS! Access to principals for ad hoc inquiries
*Please inquire for flexible subscription pricing options