At the Intersection of
Markets & Policy
Insightful Analysis for a Broad Audience,
Directly to Your Inbox
Our mission is to provide sophisticated financial market analysis that is independent, accessible, and actionable for a broad public and private sector audience. We are seeking to widen and deepen the communication channels between the policy community and global financial markets, thereby facilitating more informed policymaking and allocation of public and private resources.
Summary and Price Action Rundown Global risk assets are building on last week's gains as optimism continues to build for an impending economic recovery amid upbeat growth signals, upsized US fiscal stimulus, and expanding Covid-19 vaccine distribution. S&P 500 futures indicate a 0.3% higher open after the index advanced 4.7% … Continue reading "Morning Markets Brief 2-8-2021"
In this week's Five Minute Macro, elevating Treasury yields moves into the first spot, followed by accommodative central banks. The Covid relief bill moves down to third and the inflation forecast into fourth, with Bitcoin highs remaining at the fifth spot.
SAMPLE PRO SUBSCRIPTION CONTENT
Summary and Price Action Rundown US equities chugged higher today as January's highly-anticipated jobs report evidenced modest improvement but missed estimates, pulling the dollar off its recent multi-month highs. The S&P 500 added 0.4% to register its second consecutive record close, bringing the ascent for the index to 4.7% on … Continue reading "Afternoon Markets Brief 2-5-2021"
Looking Ahead – Fresh Squeezed A week ago, when shares of GameStop and other heavily-shorted companies were still soaring and exacting a heavy toll on the hedge funds caught offside, analysts had their heads on a swivel looking around for the next target of the Reddit WallStreetBets short-squeeze mob. … Continue reading "Looking Ahead – Fresh Squeezed 2-5-2021"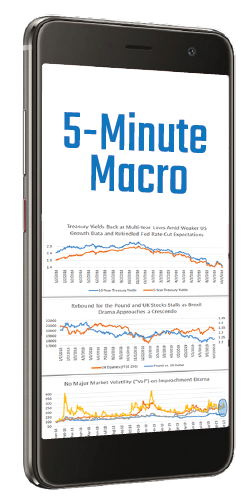 Markets/Policy PRO Package
Gain an informational advantage with the enhanced briefing package, featuring additional intelligence and deeper context; and directly leverage the unique expertise of our team, with bespoke insights, viewpoints, and outlooks to allow decision-makers in the public and private sectors to focus on the issues that truly matter.
Includes:
– Morning Brief (8 am)
– Afternoon Brief (5 pm)
– Five Minute Macro (midday Monday)
– Looking Ahead (midday Friday)
– Market Viewpoint (Sunday)
PLUS! Real Time Coverage of Exceptional Volatility
PLUS! Access to principals for ad hoc inquiries
*Please inquire for flexible subscription pricing options