At the Intersection of
Markets & Policy
Insightful Analysis for a Broad Audience,
Directly to Your Inbox
Our mission is to provide sophisticated financial market analysis that is independent, accessible, and actionable for a broad public and private sector audience. We are seeking to widen and deepen the communication channels between the policy community and global financial markets, thereby facilitating more informed policymaking and allocation of public and private resources.
Summary and Price Action Rundown Global risk assets are subdued this morning after yesterday's losses as investors continue to weigh the grim near-term outlook for the pandemic and the global economy against upbeat medium-term prospects for stimulus measures and eventual vaccine rollout. S&P 500 futures indicate a 0.1% lower open … Continue reading "Morning Markets Brief 11-3-2020"
In this week's Five Minute Macro, global markets remain positive on a Yellen Treasury and continued positive vaccine news. New entrants at 3 and 4 are this week's OPEC meeting and oil prices along with the Pound and Brexit deal, while US political uncertainty continues to easy.
SAMPLE PRO SUBSCRIPTION CONTENT
Summary and Price Action Rundown US equities climbed higher again today as more positive vaccine news kept investors focused on the encouraging medium-term outlook despite grim near-term pandemic developments. The S&P 500 posted a fresh record high today, gaining 1.2% today with growth-sensitive stocks remaining in the lead, to hoist … Continue reading "Afternoon Market Brief 11-16-2020"
Looking Ahead – Is It Over Yet? The concept of Election Day was already antiquated when this year's enormous preponderance of early and mail-in voting elongated the process into an election month, while the tightness of the presidential race, as well as other key contests, has dragged the nation through … Continue reading "Looking Ahead – Is It Over Yet? 11-6-2020"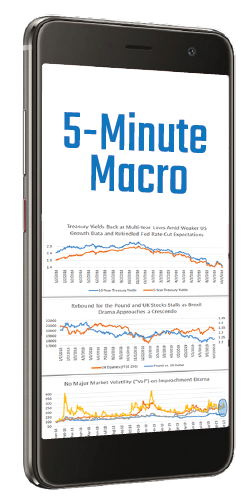 Markets/Policy PRO Package
Gain an informational advantage with the enhanced briefing package, featuring additional intelligence and deeper context; and directly leverage the unique expertise of our team, with bespoke insights, viewpoints, and outlooks to allow decision-makers in the public and private sectors to focus on the issues that truly matter.
Includes:
– Morning Brief (8 am)
– Afternoon Brief (5 pm)
– Five Minute Macro (midday Monday)
– Looking Ahead (midday Friday)
– Market Viewpoint (Sunday)
PLUS! Real Time Coverage of Exceptional Volatility
PLUS! Access to principals for ad hoc inquiries
*Please inquire for flexible subscription pricing options