At the Intersection of
Markets & Policy
Insightful Analysis for a Broad Audience,
Directly to Your Inbox
Our mission is to provide sophisticated financial market analysis that is independent, accessible, and actionable for a broad public and private sector audience. We are seeking to widen and deepen the communication channels between the policy community and global financial markets, thereby facilitating more informed policymaking and allocation of public and private resources.
Summary and Price Action Rundown Global risk assets are moving lower this morning as investors ponder mixed US corporate earnings and Chinese growth figures ahead of key US economic data this morning. S&P 500 futures point to a 0.6% lower open after yesterday's 0.9% rally brought the index just shy … Continue reading "Markets Policy Partners 7-16-2020"
This week, Covid infection rates in the hot spot states remains the driving factor for risk. More Fed easing moves up to the second spot, while hopes for fiscal stimulus remains third. Chinese equity market's surge due to official prompting enters at the fourth spot and US political uncertainty remains … Continue reading "Five Minute Macro 7-6-2020"
SAMPLE PRO SUBSCRIPTION CONTENT
Summary and Price Action Rundown US stocks retreated today as closely-followed testimony by Dr. Fauci emphasized the risks of a premature economic reopening. The S&P 500 accelerated to the downside into the close of trading, ultimately falling 2.1% on the day to deepen year-to-date downside to 11.2% and the decline … Continue reading "Afternoon Markets Brief 5-12-2020"
Summary and Price Action Rundown Global risk assets are mixed this morning amid ongoing concerns that the Covid-19 resurgence will impede reopening plans, while analysts are noting various China-related headlines. S&P 500 futures point to a choppy open after the index struggled for direction last week and closed Friday on … Continue reading "Morning Market Brief 6-22-2020"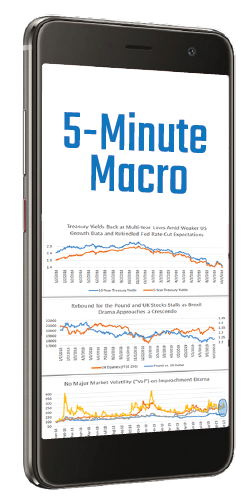 Markets/Policy PRO Package
Gain an informational advantage with the enhanced briefing package, featuring additional intelligence and deeper context; and directly leverage the unique expertise of our team, with bespoke insights, viewpoints, and outlooks to allow decision-makers in the public and private sectors to focus on the issues that truly matter.
Includes:
– Morning Brief (8 am)
– Afternoon Brief (5 pm)
– Five Minute Macro (midday Monday)
– Looking Ahead (midday Friday)
– Market Viewpoint (Sunday)
PLUS! Real Time Coverage of Exceptional Volatility
PLUS! Access to principals for ad hoc inquiries
*Please inquire for flexible subscription pricing options