At the Intersection of
Markets & Policy
Insightful Analysis for a Broad Audience,
Directly to Your Inbox
Our mission is to provide sophisticated financial market analysis that is independent, accessible, and actionable for a broad public and private sector audience. We are seeking to widen and deepen the communication channels between the policy community and global financial markets, thereby facilitating more informed policymaking and allocation of public and private resources.
Summary and Price Action Rundown Global risk assets are steadying this morning as the long-delayed US pandemic relief package heads to the President's desk, Brexit negotiators soldier on despite more setbacks, and vaccine rollout continues apace. S&P 500 futures indicate a 0.2% gain at the open after the index closed … Continue reading "Morning Markets Brief 12-22-2020"
The Biden Relief Bill remains front and center, while investors wait for the Fed on Wednesday and corporate earnings season continues. Finally, data continue to show the uneven effects of the pandemic and US-China tensions continue to percolate.
SAMPLE PRO SUBSCRIPTION CONTENT
Summary and Price Action Rundown US equities slipped from record highs today as wrangling continued today over the US pandemic relief package and UK-EU Brexit agreement. The S&P 500 declined 0.4% today to pare year-to-date gains to 14.8%, as the index adjusts to include Tesla on Monday (more below). The … Continue reading "Afternoon Markets Brief 12-18-2020"
Looking Ahead – The Dragon and the Ant It has been an eventful few weeks, even by the standards of 2020, which has not lacked for consequential occurrences. As the post-election legal challenges wind down, this unprecedented US political season seems to be heading toward the likely resolution of a … Continue reading "Looking Ahead – The Dragon and the Ant 11-20-2020"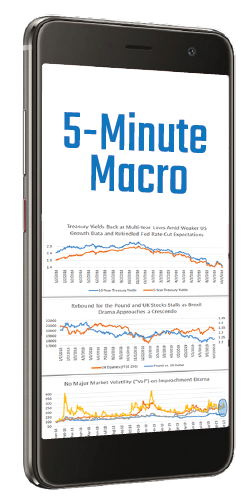 Markets/Policy PRO Package
Gain an informational advantage with the enhanced briefing package, featuring additional intelligence and deeper context; and directly leverage the unique expertise of our team, with bespoke insights, viewpoints, and outlooks to allow decision-makers in the public and private sectors to focus on the issues that truly matter.
Includes:
– Morning Brief (8 am)
– Afternoon Brief (5 pm)
– Five Minute Macro (midday Monday)
– Looking Ahead (midday Friday)
– Market Viewpoint (Sunday)
PLUS! Real Time Coverage of Exceptional Volatility
PLUS! Access to principals for ad hoc inquiries
*Please inquire for flexible subscription pricing options