Summary and Price Action Rundown
Global risk assets posted moderate losses overnight as concerns over an expanding health crisis emanating from China overshadow prevailing optimism over the nascent global growth rebound and US corporate earnings. S&P 500 futures point to a 0.3% decline at the open, which would take the index just below its third consecutive record high from Friday. US equities have been buoyant this month as investors focus on easing global trade tensions, an increasingly positive tone in fourth quarter earnings reports, and some encouraging global economic readings in recent days. Now, concerns over the spread of a virus from central China are introducing an unanticipated challenge to the upbeat outlook, much as geopolitical factors did to start the year. Overnight, equities in Asia underperformed, given proximity to the outbreak, while EU stocks are further pressured by poor earnings by mega-bank UBS. Treasuries are rallying modestly amid the increased risk aversion, while the dollar is little changed despite a 0.5% decline for the renminbi from recent five-month highs versus the dollar. Renewed doubts over demand growth are weighing on crude oil, which had received a boost from supply disruptions in Libya and fears of similar dynamics brewing in Iraq.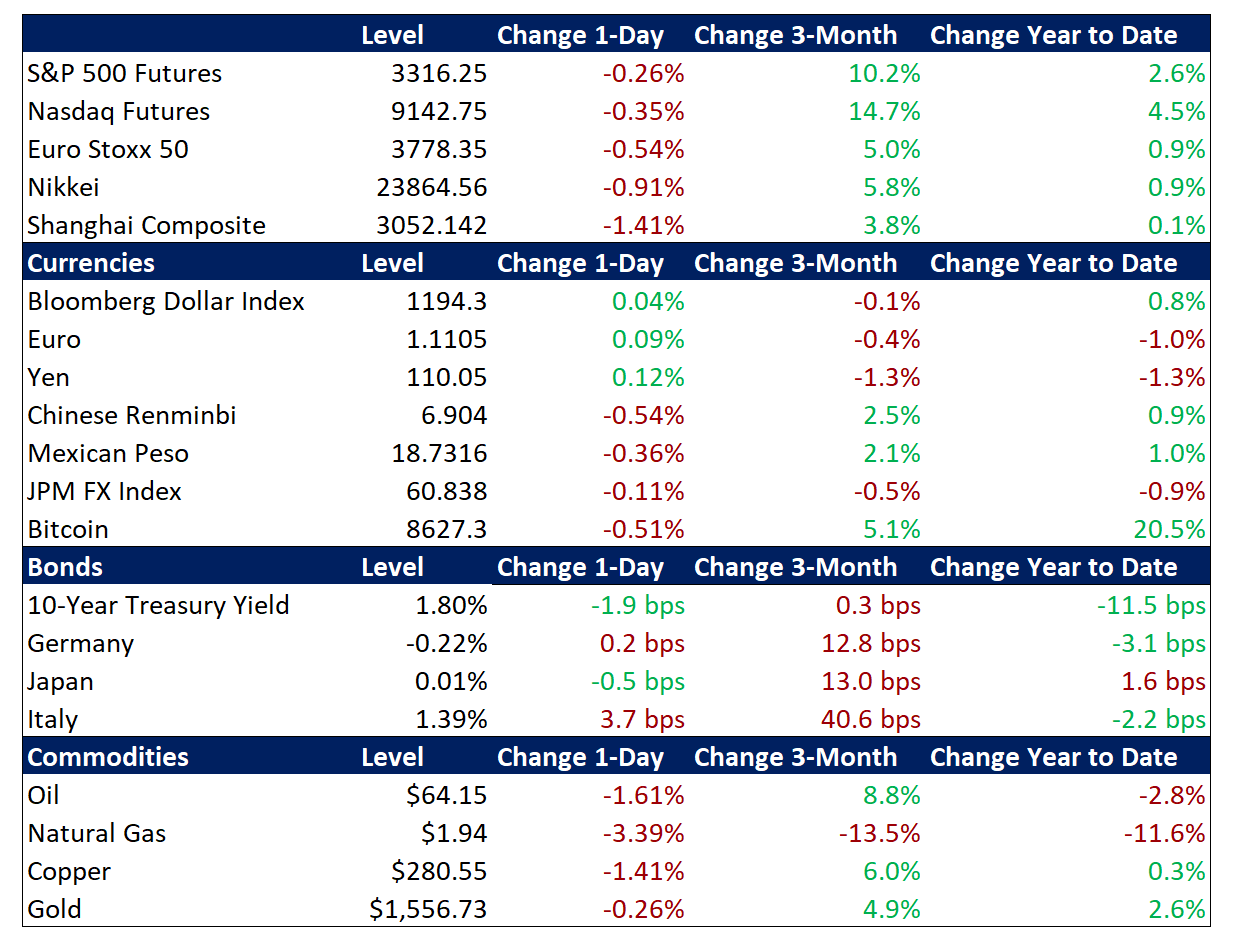 Public Health Concerns in China and Political Unrest in Hong Kong Hit Markets
The rapid spread of an apparently new deadly viral respiratory illness that originated in Wuhan, China is weighing on investor sentiment in Asia and beyond, while resurgent political tensions compounded pressure on Hong Kong markets overnight. Reports of hundreds of cases of the coronavirus, which is being compared to the SARS outbreak from seventeen years ago and is said to have resulted in four deaths thus far, have derailed the upside momentum for global risk assets that has been building over the past few weeks. Cases are being reported in South Korea, Thailand, and Japan, and US authorities are establishing quarantine procedures at major airports for incoming travelers from the region. Experts note that the Chinese Lunar New Year holiday, which begins this Friday, poses a substantial risk of dramatically widening the outbreak given that tens of millions of Chinese travel home or to a vacation destination for the holiday week. The Shanghai Composite fell 1.4% overnight while the renminbi lost 0.5% versus the dollar. For context, Chinese equities and the renminbi had been rallying for the past month, underpinned by improving trade relations with the US, moderately encouraging economic readings, and prospects for more economic stimulus by Beijing. Although China's fourth quarter GDP was 6.0% year-on-year (y/y), putting the full year growth rate was down to 6.1%, the slowest expansion in nearly thirty years, details from December indicated an uptrend, buoying hopes for an economic reacceleration this year. Meanwhile, equities in Hong Kong fell 2.8% as news of the virus combined with re-intensifying political tensions to deepen the selloff. After a lull in recent weeks, protests resumed on Sunday and China's main representative in the region urged the Hong Kong government to pass a stricter security law in a state media op-ed. Analysts note that efforts to enact such a security law were met in 2003 with mass protests.
 US Corporate Earnings Expected to Remain Supportive of Equities
Investors remain optimistic on fourth quarter (4Q19) corporate results after the S&P 500 powered to a series of record highs last week amid high-profile upside earnings surprises. Last week, shares of JPMorgan, Morgan Stanley, Goldman Sachs, and Citi gained 1.5%, 10.1%, 3.1%, and 2.4%, respectively, after US mega-banks kicked off 4Q19 earnings season on a positive note. Other reporting companies that impressed investors last week include rail giant CSX, financial services mainstay Charles Schwab, and asset management leader BlackRock. Trucker JB Hunt, oilfield services provider Schlumberger, and industrial bellwether Fastenal were among the few disappointments, and shares of each experienced only moderate downside. Of the 47 S&P 500 companies that have reported 4Q19 results, 73% have topped earnings expectations and 63% have beaten sales estimates. Today features reports from Netflix, IBM, Capital One, Haliburton, and United Airlines. Johnson & Johnson, Las Vegas Sands, Northern Trust, Progressive, American Airlines, Freeport McMoRan, Discover, Intel, Southwest, M&T Bank, Proctor & Gamble, Starbucks, Travelers and American Express all report later this week.
          Additional Themes
Easing US Trade Offensive – Following last week's signing of the Phase One US-China trade deal and Senate approval of the US-Mexico-Canada trade deal, the outlook for US trade policy continues to brighten as reports yesterday indicated that President Trump and French President Macron had agreed to a tariff "cease fire" until year-end.
 Mixed Global Growth Signals – The Bank of Japan held policy steady but slightly upgraded their economic outlook, although the IMF over the weekend pared their 2019 global growth forecast from 3.4% to 3.3%. Meanwhile, in Germany, the ZEW gauge of economic expectations unexpectedly popped to a four-year high, and in the UK, labor market data bettered estimates.