Summary and Price Action Rundown
Global risk assets retreated sharply overnight as investor concerns over the expanding outbreak of the SARS-like virus in China and overseas deepened following a weekend of disquieting developments. S&P 500 futures point to a 1.4% lower open to start the week after Friday's cautious decline of 0.9%, which would put the index about 2.5% below its record high from earlier this month. Investors continue to ponder the ramifications of the viral outbreak emanating from central China as reports of its spread cloud global growth expectations and market sentiment generally (more below). Overnight, equities in Asia posted losses of 1-3%, though mainland Chinese and other regional stock markets remain closed for the Lunar New Year holiday. In the EU, stocks are posting declines of similar magnitude. The rising risk aversion is driving demand for safe havens like Treasuries, with the 10-year yield down 6 basis points to 1.63%, a three-month low, while the dollar is edging higher. Crude oil is continuing its downtrend, with Brent at its lowest level since October, below $59 per barrel, and OPEC is already discussing options for further output cuts to support prices.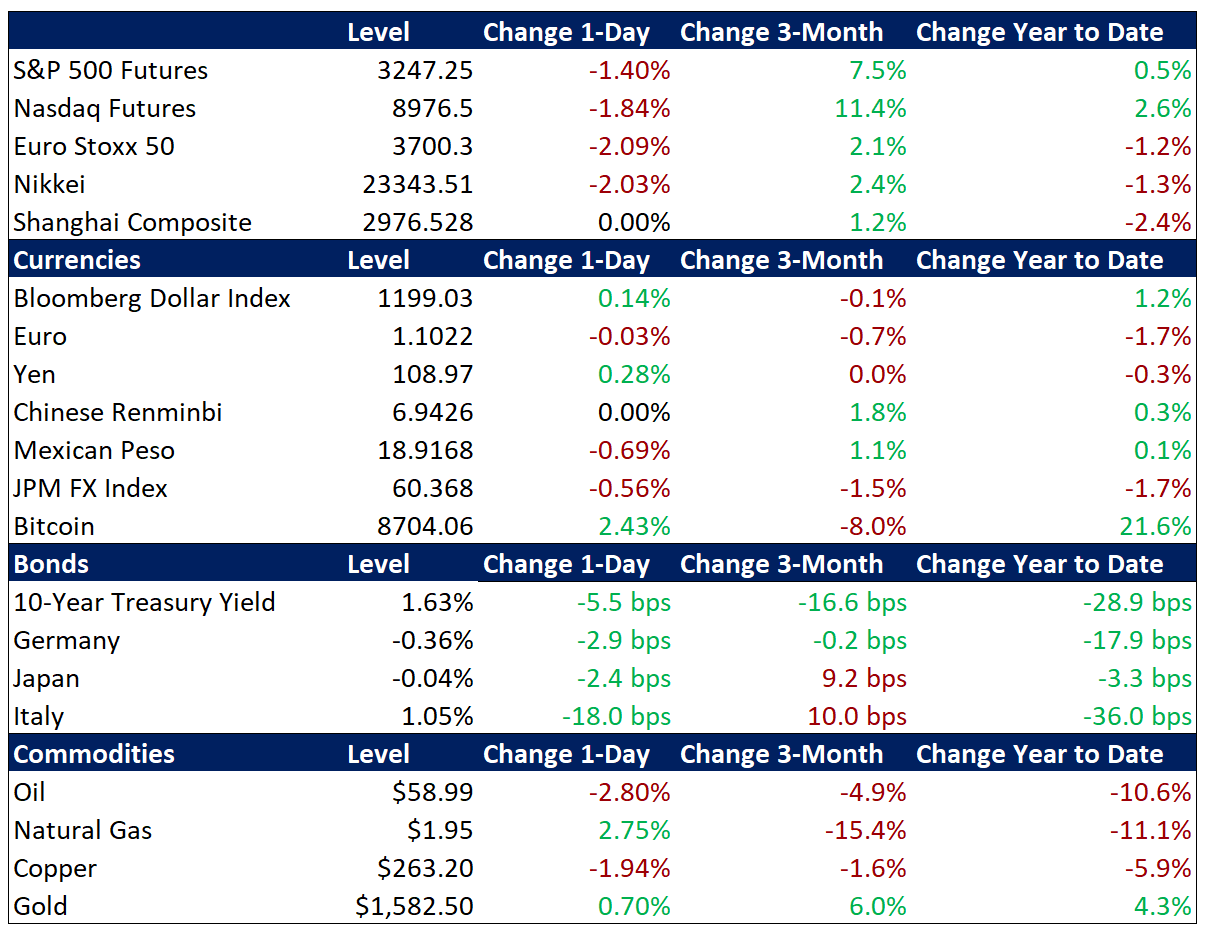 Continued Spread of Wuhan Virus Dispels Market Calm
As numbers of reported infections and fatalities continue to rise, alongside indications of severe contagiousness, investors are increasingly doubtful that tight travel controls around the epicenter of the virus in Wuhan and other official measures in China will succeed in stemming the spread. With reported cases rising to 2,794 and deaths increasing to 80, investors are nervously continuing to monitor the expanding contagion. Over the weekend, analysts focused on reports detailing the highly contagious nature of the virus, which unlike SARS can spread during an asymptomatic gestation period that is estimated to last an average of ten days and as long as fourteen days in some cases. This concerning revelation, combined with reports that five million people departed the Wuhan area in the days before travel restrictions were imposed, has intensified already heightened uncertainty about the scope of the outbreak. Outside of Asia, where the infections and equity losses have been concentrated, risk appetite had remained generally resilient until last Friday's sobering reports that sixteen Chinese cities and roughly 46 million people were under varying degrees of travel restrictions. Meanwhile, mainland markets, which closed starting last Friday for the Lunar New Year holiday, will stay shut beyond their scheduled reopening on Friday. Cases outside of China remain limited thus far, with isolated infections in the US, Canada, France, Japan, Thailand, Singapore, South Korea, Taiwan, Hong Kong, Vietnam, Malaysia, and Macau.
 Corporate Earnings Season Enters Key Period
Analysts continue to expect this week's calendar of fourth quarter (4Q19) corporate reports to provide support for equities, but the stakes are higher as disappointments will be magnified in the current climate of rising risk aversion. Last week's array of earnings was broadly upbeat but featured some uneven results. On Friday, shares of chip giant Intel soared 8.1% after 4Q19 earnings and revenue handily beat consensus expectations. More importantly, Intel management forecast better-than-expected results for 1Q20. Meanwhile, shares of American Express rose 2.8% after reporting 4Q19 earnings which beat expectations with a "well-balanced mix" of fee, spending and lending revenues. However, results were not so rosy at competitor Discover Financial whose shares plummeted as much as 10% before recovering in late trading after the credit card company reported the total net charge-off rate in their loan book rose to 3.19%. Also, consumer lender Synchrony Financial fell 9.9% after missing revenue projections. Of the 86 S&P 500 companies that have reported 4Q19 results, 73% have topped earnings expectations and 66% have beaten sales estimates. The busiest segment of earnings season still lies ahead, with Apple, Microsoft, Facebook, Amazon, McDonalds, Boeing, UPS, Coca-Cola, Caterpillar, ExxonMobil, Starbucks, Lockheed Martin, Tesla, Whirlpool, UPS, Pfizer, 3M, and Honeywell among the key reports due this week.
          Additional Themes
Setback for Italian Populists Supports Local Bonds – Yesterday, a regional election in Emilia-Romagna proved to be a bulwark for the Democratic Party as a challenge from the right-wing populist Lega party fell short. With the fragile national ruling coalition of the Democratic Party and Five Star on increasingly shaky ground following the resignation of the Five Star leader earlier this month, analysts had speculated that a Lega win in traditionally left-leaning Emilia-Romagna could spark early elections. Italian bonds are posting a strong rally today, retracing much of their recent sell-off relative to German bunds.
Disappointing German Economic Data – The Ifo Institute's survey of Germany's business climate relapsed with a downside surprise for January, further clouding analysts' nascent EU economic optimism that had already been dented by virus fears.