Summary and Price Action Rundown
Global risk assets are steadying this morning after yesterday's sharp selloff despite ongoing fears over the expanding outbreak of the SARS-like virus in China and overseas, as investors attempt to focus on incoming corporate earnings reports. S&P 500 futures indicate a 0.4% gain at the open as the index attempts to rebound from yesterday's 1.6% decline, which put the loss from its record high earlier this month at 2.6%. Investors continue to ponder the ramifications of the viral outbreak emanating from central China as reports of its spread cloud global growth expectations and market sentiment generally (more below). Overnight, equities in Asia again posted losses of around 1-3%, though mainland Chinese and other regional stock markets remain closed for the Lunar New Year holiday. In the EU, however, stocks are slightly higher but trading with a cautious tone. Elevated safe haven demand alongside a cloudier global growth outlook are supporting Treasuries, with the 10-year yield hovering around 1.60%, a three-month low, while the dollar is flat. Crude oil remains in a steep downtrend, with Brent at its lowest level since October, below $59 per barrel, despite signals yesterday that OPEC is already discussing options for further output cuts to support prices.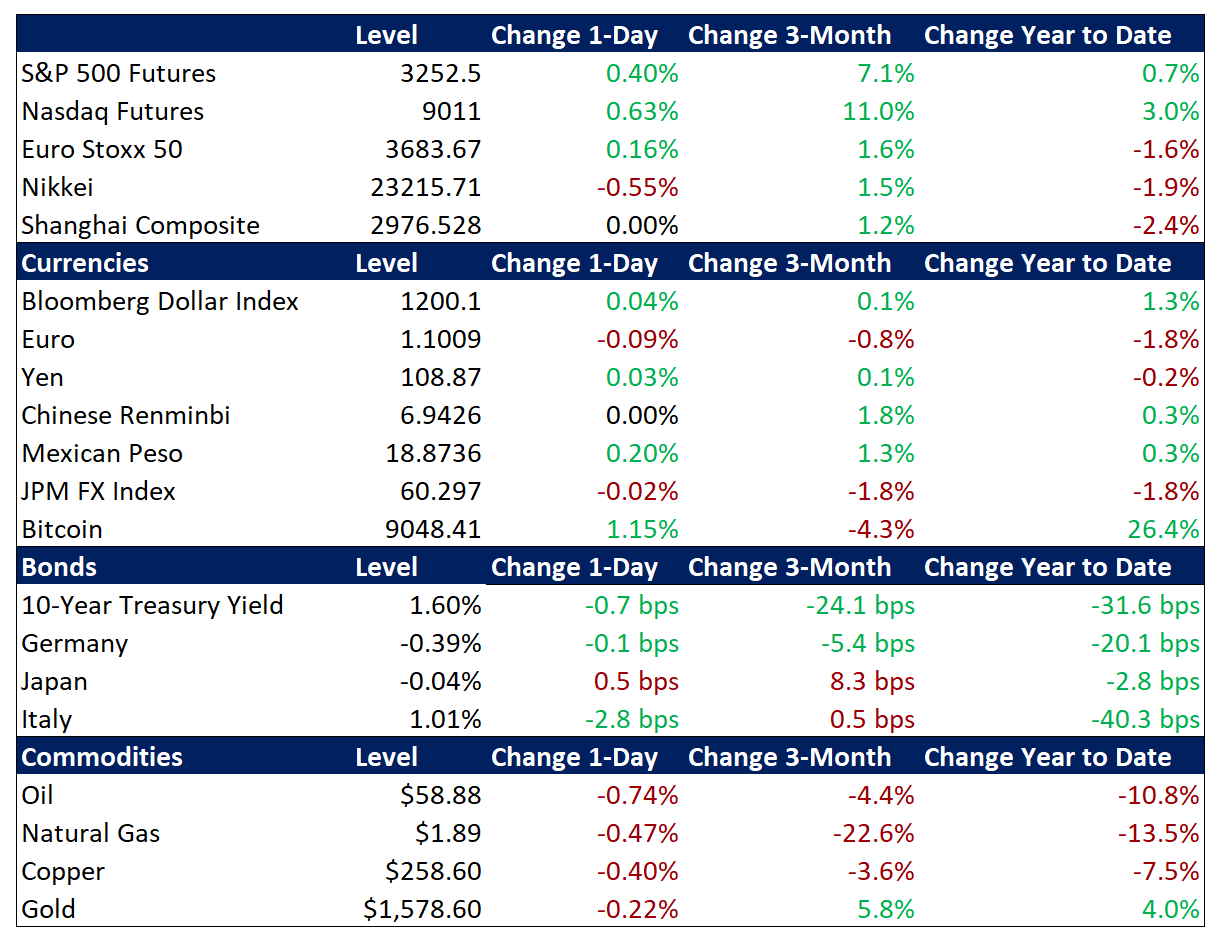 Uncertainties Over the Spread of the Wuhan Virus Keep Markets on Edge
Investors are bracing for further increases of reported infections and fatalities given the apparently lengthy incubation period, difficulty in detection, and high contagiousness. With reported cases jumping to 4,474 and deaths increasing to 107, investors are nervously continuing to monitor the expanding contagion. Last evening, Chinese President Xi addressed the issue in cautious public comments and market participants noted that Hong Kong officials are now restricting travel to and from the mainland as efforts to stem the outbreak continue to expand. Over the weekend, analysts focused on reports detailing the highly contagious nature of the virus, which unlike SARS can spread during an asymptomatic gestation period that is estimated to last an average of ten days and as long as fourteen days in some cases. This concerning revelation, combined with reports that five million people departed the Wuhan area in the days before travel restrictions were imposed, has intensified already heightened uncertainty about the scope of the outbreak. Meanwhile, mainland markets, which closed starting last Friday for the Lunar New Year holiday, are set to remain shut beyond their scheduled reopening on Friday to the following Monday, at the earliest, although reports indicate that other business are preparing to stay closed for longer. Cases outside of China remain limited thus far, with isolated infections in the US and elsewhere.
 Corporate Earnings Season Enters Key Period
Analysts continue to expect this week's calendar of fourth quarter (4Q19) corporate reports to provide support for equities, but the stakes are higher as disappointments will be magnified in the currently cautious market mood. Today features reports by Apple, 3M, Starbucks, Pfizer, LVHM, and Lockheed Martin, as the busiest week of earnings season picks up momentum today. Yesterday's relatively short list of reporting companies kicked off this potentially pivotal week of corporate reports on a mixed note. Homebuilder DR Horton topped both earnings and sales estimates, sending its shares up 2.0% to dramatically outperform broader markets yesterday, even as December data on US new home sales surprised to the downside. Sprint, however, posted uneven results, undershooting on sales despite bettering earnings forecasts, and its shares sank 4.1% to a multi-year low. Whirlpool, which reported after the closing bell, also had a mixed 4Q, similarly missing on sales but exceeding earnings estimates, and its shares are down 1.3% in pre-market trading. Beyond today's reports, the rest of the week features more major industry leaders, including Microsoft, Facebook, Amazon, McDonalds, Boeing, UPS, Coca-Cola, Caterpillar, ExxonMobil, Tesla, UPS, and Honeywell.
          Additional Themes
Economic Data Due – As investors continue to speculate over the potential global growth fallout from the coronavirus, US durable goods orders for December will be in focus today. In November, new orders unexpectedly fell 2.1% month-on-month (m/m) while the market was expecting a 1.5% rise. This also followed a weak October where orders only grew 0.2% m/m. US 4Q GDP is due on Thursday and Friday brings December income, spending and price data.
Investors Monitor US Political Developments – Although the impeachment process has had scant apparent impact on financial markets, given no clear erosion of Republican support for President Trump in the Senate, details from former National Security Council Director John Bolton's upcoming book have added an incremental degree of intrigue to the proceedings. The strong assumption remains that the Senate will vote to keep President Trump in office. Meanwhile, analysts are also monitoring Senator Sanders' surge in Iowa but, like impeachment, US political dynamics are likely to remain a backburner issue for investors until later this year.