Summary and Price Action Rundown
Global risk assets are lower again this morning after yesterday's intraday comeback, as markets struggle to find direction amid growing concerns over the coronavirus outbreak but broadly supportive corporate earnings and decent growth indicators. S&P 500 futures point to a 0.3% loss at the open, which would add to the index's 1.4% downside from its record high earlier this month. In recent days, investors have been attempting to look past the economic impact of the viral outbreak emanating from central China but uncertainty remains high and volatility levels are elevated (more below). Overnight, equities in Asia were mixed as selling pressure increased going into the weekend. Meanwhile, mainland Chinese markets remain closed for the Lunar New Year holiday, with the reopening delayed until Monday at the earliest. EU equities are under moderate pressure as well, losing 0.4%. Treasuries continue to benefit from safe haven demand, with the 10-year yield revisiting yesterday's three-month lows at 1.56%, while the dollar is once again little changed. Crude oil, however, is pausing its steep downtrend as Brent prices hold above $58 per barrel, near their lowest level since August.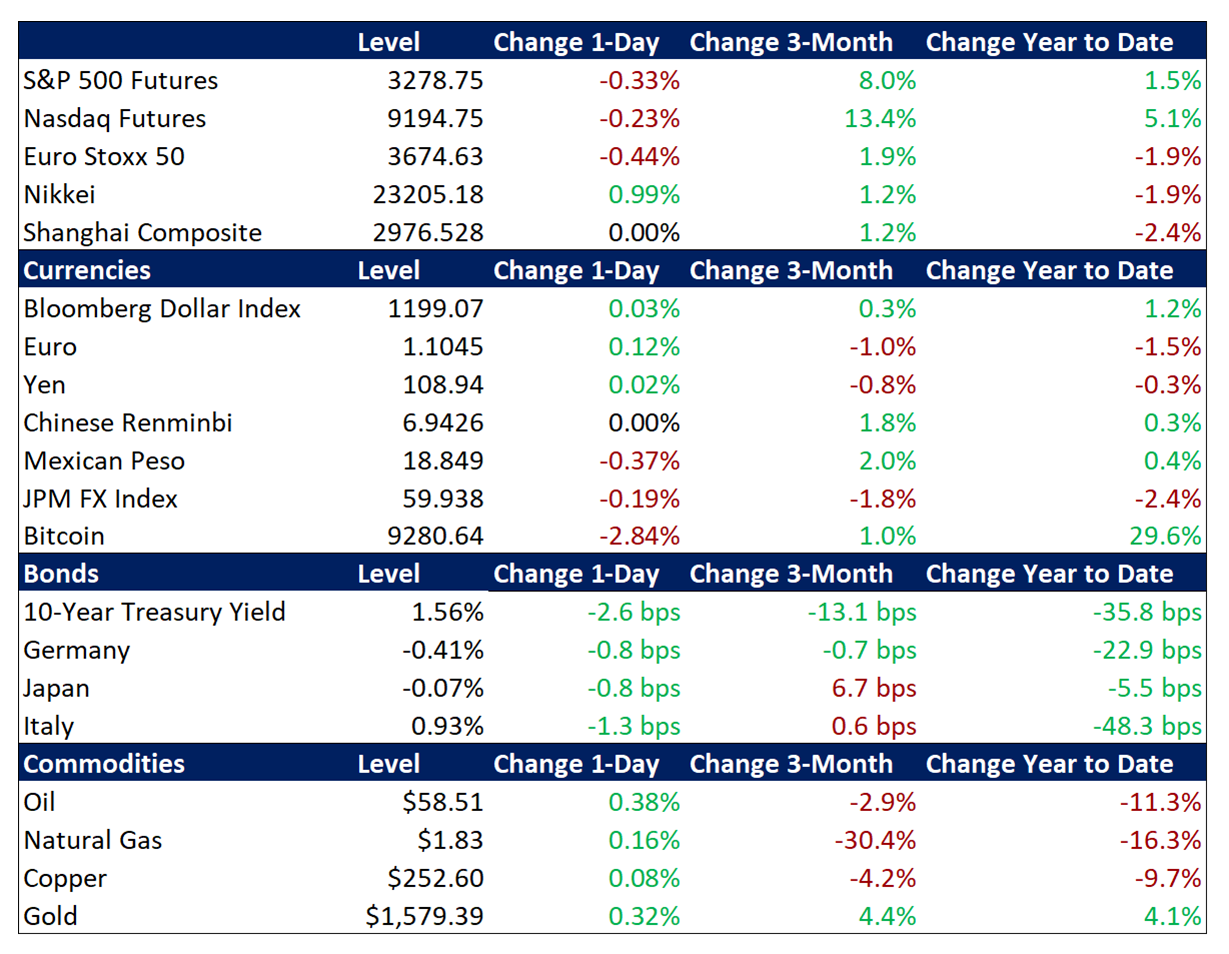 Wuhan Virus Outbreak Keeps Investors on Edge
Although sentiment steadied yesterday following measured statements from the World Health Organization (WHO), selling pressure has reemerged as the debate among investors over the potential trajectory and fallout from the Wuhan virus outbreak continues to play out in financial markets. Headlines overnight have once again darkened the market mood ahead of the US trading session, and like last Friday, investors may be prone to reduce equity and other risk asset positions ahead of the weekend on fears of adverse developments while markets are closed on Saturday and Sunday. Yesterday, the WHO declared the Wuhan virus a global emergency, after withholding that designation last week, but declined to recommend limiting trade and movement, buoying hopes for a limited economic impact of the outbreak. However, Goldman Sachs is estimating today that the virus will shave 0.4 percentage points off first quarter 2020 US GDP and reports indicate that roughly two-thirds of China's economy will remain shuttered next week. For context, the S&P 500 has been alternating between gains and losses this week, as uncertainty over the impact of the virus offsets generally upbeat earnings results (more below). Total reported cases continue to climb, along with fatalities, with these tallies now reaching 9,776 and 213, respectively. More countries are tightening travel restrictions to China, with the US State Department issuing a "do not travel" recommendation, while Italy declared a state of emergency, although officials called it "precautionary."
 Corporate Earnings Remain Broadly Upbeat Despite Isolated Disappointments
Impressive results from Amazon yesterday afternoon are balancing the drag from Facebook, as fourth quarter (4Q19) corporate reports generally continue to impress. Shares of Amazon are up 8.8% after the consumer giant handily topped estimates after yesterday's closing bell. This follows a downbeat report from Facebook, which sent its stock 6.1% lower yesterday after the company reported a 51% rise in expenses related to the company's privacy and security improvements. Meanwhile, Tesla surged 10.3% as management said that they expect positive cash flow and net income on a regular basis going forward. Coca-Cola also rallied, gaining 3.3% after 4Q earnings topped estimates. Verizon, Dupont, and Truist Financial were among the few disappointments. Caterpillar, Honeywell, Exxon Mobil, and Chevron issue reports today to close a busy and generally impressive week of earnings. Of the 212 S&P 500 companies that have reported 4Q19 results, 74% have topped earnings expectations and 64% have beaten sales estimates. Next week features Google, Aflac, Allstate, Prudential, Clorox, Chipotle, Disney, Ford, GM, MetLife, Qualcomm, Kellogg, Philip Morris, T-Mobile, Tyson Foods, and Twitter.
          Additional Themes
Mixed Global Economic Data – Eurozone GDP expanded just 0.1% quarter-on-quarter in 4Q19, putting growth at a meager 1.0% on the year, sinking below 3Q's 1.2% pace and undershooting the 1.1% forecast. Regional inflation remained limp as well, with a gauge of January's core consumer prices reflecting a dismal 1.1% versus 1.2% expected and the prior month's 1.3%. Meanwhile, China's purchasing managers' indexes (PMIs) for January were roughly as expected, with manufacturing stalled at 50 but services surprising to the upside at 54.1. For context, PMI readings above 50 denote expansion and below 50 reflect contraction of activity in the sector.
Decent US GDP Data – With investors bracing for economic fallout from the Wuhan virus over the coming months, fourth quarter GDP narrowly topped estimates, leaving full year 2019 GDP at a mild 2.3%. With the first estimate for 4Q19 GDP, the BLS estimated that the US economy grew 2.1% for the quarter, the same as in 3Q and just above consensus expectations of 2.0%. Today, analysts will note December income, spending, and inflation figures, and next week, January's nonfarm payrolls and US PMIs will be in focus.