Summary and Price Action Rundown
Global risk assets are slipping lower this morning as pledges of policy support provide only a limited counterbalance to rising concerns over the human and economic toll of the outbreak. S&P 500 futures point to a 1.1% lower open as the index is set to extend its streak of seven straight sessions of declines, which has put losses from mid-February's record high at 12.8%. The first reported US fatalities from the coronavirus over the weekend, alongside widening outbreak figures, principally in South Korea, Japan, Italy, and Iran, have raised the risk that the virus will significantly hamper economic activity worldwide. Overnight, equities in Asia were initially led higher by Chinese stocks but the rally flagged in South and Southeast Asian markets, while the Euro Stoxx index has also surrendered early gains. Treasuries are extending their historical rally, driven by heightened safe haven demand, a darkening economic outlook, and rising expectations of Fed easing, with the 10-year yield trading at a record low of 1.07%. Meanwhile, the dollar is continuing to hover below recent multi-year highs. Brent crude prices are falling toward $50 per barrel amid a worsening demand outlook.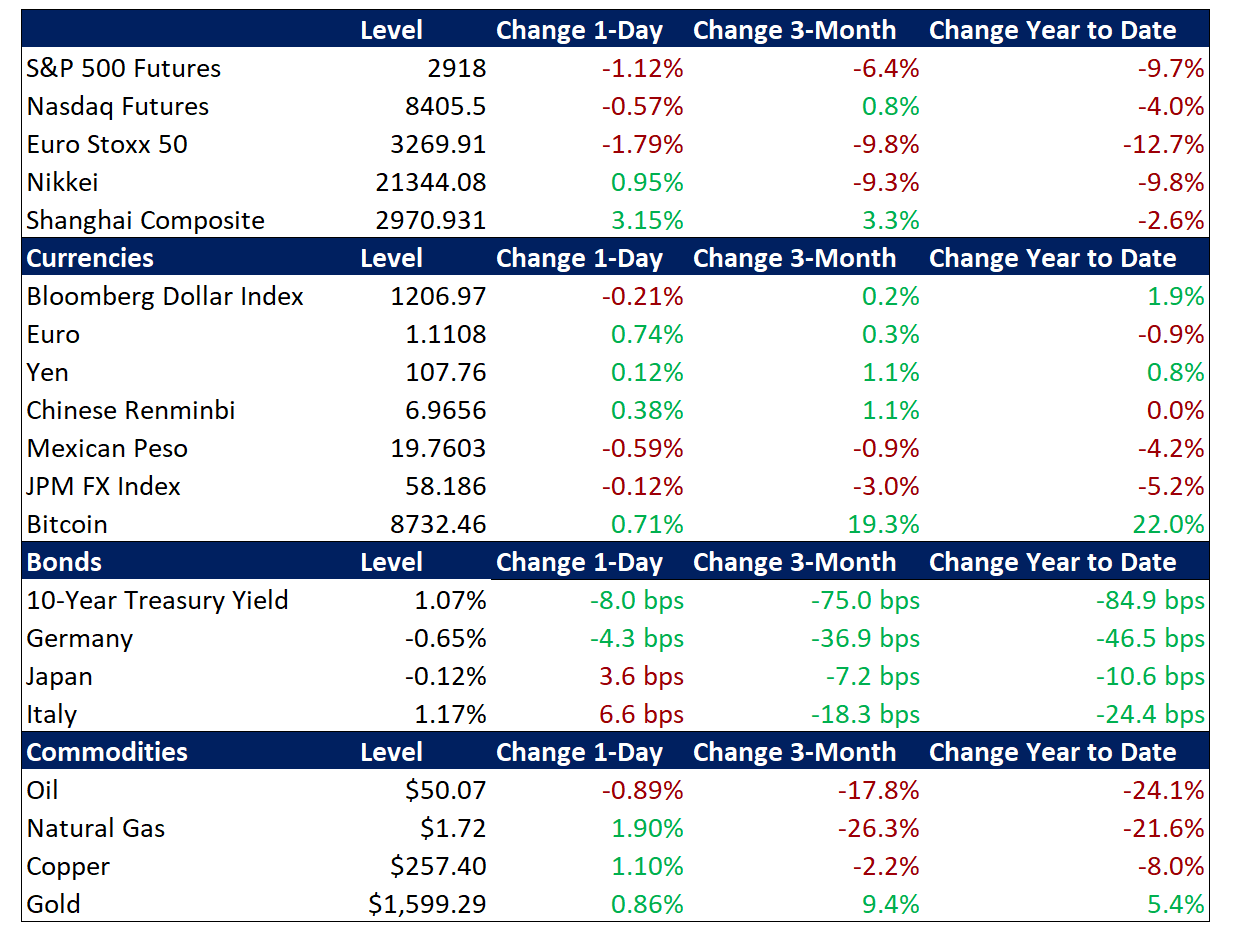 Widening Coronavirus Epidemic & Early Signs of Economic Fallout  
Fears of a global pandemic continue to rise while some initial February data confirms a severe economic impact. Developments over the past week have forced investors to confront the likelihood of a wider, lengthier, and deeper impact of the epidemic, or even its expansion into a global pandemic. Friday's reports of the first case of suspected "community spread" near San Francisco were followed over the weekend by increasing US infections in various states, currently totaling 80 individuals, as well as the first two US fatalities from the virus. Japan and South Korean have closed schools nationwide, travel restrictions continue to proliferate, and more countries are announcing cases. Now, total infections are reported to be 89,197 while fatalities have reached 3,048. Regarding the economic costs, the OECD cut its global growth forecast from 2.9% to 2.4%, to the lowest in a decade, and warned of a possible contraction in activity this quarter. It added that "coordinated policy actions across all the major economies" may be needed if the outbreak continues to widen. Incoming data is increasingly reflecting a severe impact from the outbreak. China's manufacturing purchasing managers' indexes for February printed record lows, with the official gauge at 35.7 and the Caixin-compiled version at 40.3. For context, PMI readings above 50 denote expansion. Manufacturing PMIs in Japan and South Korea also registered contractions last month at 47.8 and 48.7, respectively. The EU PMI for February, however, was relatively stable at 49.2 as the impact of the virus remained minimal through much of the month, though respondents flagged delays in some input deliveries. – MPP note: We are arranging a call tomorrow for our clients with noted epidemiologist Dr. Christopher Mores. Please stand by for details of the call.
Officials Set to Ramp Up Stimulus Measures
Central banks and governments are aligning policy efforts in an attempt to mitigate downside risks to the global economy and prevent excessive, self-perpetuating market volatility. Mid-afternoon on Friday, with US markets continuing to reflect rising stress, Fed Chair Powell issued a statement indicating that the Fed would "act as appropriate to support the economy" in the face of "evolving" coronavirus risks. This matches the language that Chair Powell employed last spring to signal impending rate cuts and apparently contradicts an array of Fed speakers earlier in the week who had uniformly indicated a wait-and-see approach. Futures markets are pricing in two full Fed rate cuts by April and 100% odds that the Fed starts lowering rates again at the March 18 meeting, with around a 50% chance that the FOMC opts to go big with a 50 basis point (bps) cut at that meeting. Nearly 100bps of easing is reflected over the next year. Meanwhile, the Bank of Japan issued a special communication overnight pledging to "provide ample liquidity and ensure stability in financial markets." The Bank of England issued a similar statement. The central banks of Australia and Canada are both expected to cut rates at least 25bps at their scheduled meetings this week, and the European Central Bank is likely to take rates a further 10bps negative to -0.60% at its meeting next week. French officials have confirmed that G-7 governments will be taking steps this week to coordinate their policy responses, while the OECD suggested that fiscal policies may be needed in conjunction with monetary easing to cushion the economic impact of the epidemic.
Additional Themes
OPEC Prepares to Support Oil Prices – Crude futures have steadied somewhat amid reports that Russia is set to cooperate with additional OPEC supply cuts designed to stem oil price downside. The cartel meets in Vienna this week on Thursday and Friday.
US Economic Data in Focus – US PMIs for February will be scrutinized for any early impact from the epidemic, while January spending, income, and price data on Friday was steady but stale.