Summary and Price Action Rundown
Global risk assets were mixed overnight but US equity futures are higher as investors shift their attention from Friday's decent jobs report to US corporate earnings and retail sales data this week. S&P 500 futures indicate a 0.3% gain at the open, which would retrace Friday's moderate losses to send the index back toward Thursday's record high. Overnight, equities in Asia were generally higher but EU stocks are turning mixed as investors search for positive cues. Treasury yields and the dollar are both retracing most of their post-nonfarm payroll downside and continue to trade within recent multi-month ranges (more below). Oil prices are pausing after having been whipsawed by the waxing and waning geopolitical risks this month, with Brent crude dipping below $65 per barrel after spiking to nearly $72 during the initial reports of Iranian missile attacks on US targets in Iraq last Tuesday night.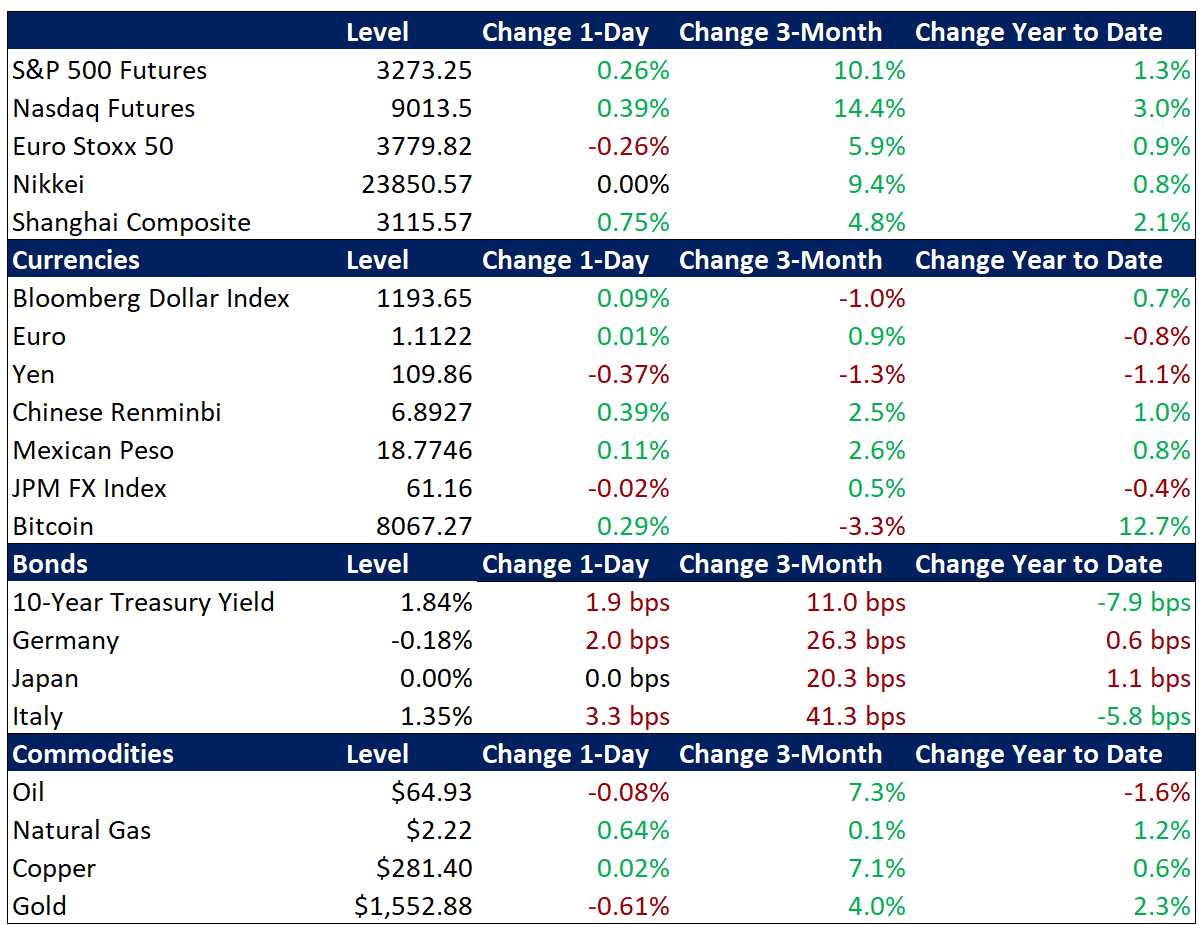 Markets Look Past Mixed US Jobs Report
The gentle declines in US Treasury yields, equities, and the dollar that followed Friday's modest downside surprise in December nonfarm payrolls have reversed as investors shift their focus to retail sales and other key US data this week. Nonfarm payrolls increased 145k in December, missing market expectations of 164k and descending from a downwardly revised 256k gain in November. Notable job gains occurred in retail trade, which added 41k jobs, though this could be due to a later-than-normal Thanksgiving in 2019. The unemployment rate held steady at 3.5%, the lowest level since 1969, and the labor force participation rate was unchanged at 63.2. Average hourly earnings (AHE) rose 0.1%, to $28.32, after an upwardly revised 0.3% gain in November, missing market estimates of a 0.3% gain. Year-on-year, AHE increased 2.9%, easing from a 3.1% gain in November and below market expectations of a 3.1% gain. While Friday's market reaction was consistent with the slightly softer tone of the report, the moves have proven fleeting as Treasury yields, the dollar, and S&P 500 futures are moving higher again this morning ahead of more economic data this week, with December retail sales in the spotlight. The strength of the US consumer is expected to be on display in last month's retail figures, with the core figure (excluding autos and gasoline) forecast to rise 0.5% month-on-month versus a flat reading for November.
 Corporate Earnings Reports Awaited
US equities are rising ahead of a potentially consequential set of fourth quarter (4Q) corporate results, with reporting beginning in earnest tomorrow. This week, peak 4Q corporate earnings reporting season begins with a heavy dose of US bank results. On Tuesday analysts will see how the year ended for Citi, JPMorgan and Wells Fargo. Wednesday's packed calendar features reports from Bank of America, Blackrock, Goldman Sachs, PNC, Charles Schwab, United Healthcare, and US Bank. The focus on Thursday will be on Blackstone, CSX, and Morgan Stanley. And the week closes with Citizens Bank, Fastenal, Regions Financial, and State Street. Last year, better-than-expected earnings provided a key upside catalyst to US equities despite modest year-on-year (y/y) earnings declines in the past three quarters. Overall S&P 500 company profits are expected to register another contraction in 4Q over last year at -2.0% y/y. Meanwhile, top-line revenue is expected to expand 2.6% y/y last quarter, which would be the slowest pace of expansion since 2Q 2016. These tepid figures have not dampened investor enthusiasm, however, given the expectation that companies have likely provided overly downbeat guidance in order to lower the bar to beat analysts' estimates. Additionally, earnings growth is expected to rebound to around a 4.5-6.5% year-on-year rate in the first half of 2020.
          Additional Themes
Bank of England (BoE) Rate Cut Expectations Rise – The ongoing trend of monetary easing by major global central banks may soon include another rate cut by the BoE. Futures markets have moved sharply today to price in greater-than-50% odds of a 25 basis point reduction in the policy rate at the January 30th meeting from 0.75% to 0.50%. This shift of the policy outlook is weighing on the pound, which is down 0.8% versus the dollar, extending its losses from its December peak to 2.7%. As the catalyst for the move, analysts are citing remarks by a key member of the BoE monetary policy committee to the Financial Times indicating that the bar for further easing is low and implying that action could be taken over the coming meetings.
 This Week – In addition to this week's corporate earnings figures, analysts will monitor the ongoing geopolitical tensions in the Middle East as well as the expected culmination of months of US and Chinese trade negotiations. Chinese Vice Premier Liu has confirmed that he will be coming to Washington ahead of a signing ceremony of the Phase One trade deal on Wednesday, January 15th. Regarding economic data, the calendar is heavy with December's US retail sales, industrial production, and wholesale and consumer price inflation figures, as well as China's 4Q GDP reading and key growth data for December.