Summary and Price Action Rundown
Global risk assets are rallying this morning amid positive atmospherics surrounding the completed Phase One US-China trade deal, while investors parse key economic data and US corporate earnings reports. S&P 500 futures point to a 0.3% gain at the open, which would send the index to a fresh record high for the second consecutive session. US equities have been buoyant this month even as analysts note a lack of positive surprises in the Phase One US-China trade deal terms, some mixed earnings reports, elevated geopolitical tensions, and uneven global economic readings. Overnight, equities in Asia and the EU were directionless despite better-than-anticipated Chinese credit figures (more below). Treasury yields and the dollar are flat, hovering within their recent ranges, as traders await key US retail sales data later this morning. Crude oil is flat as prices continue to fluctuate near one-month lows.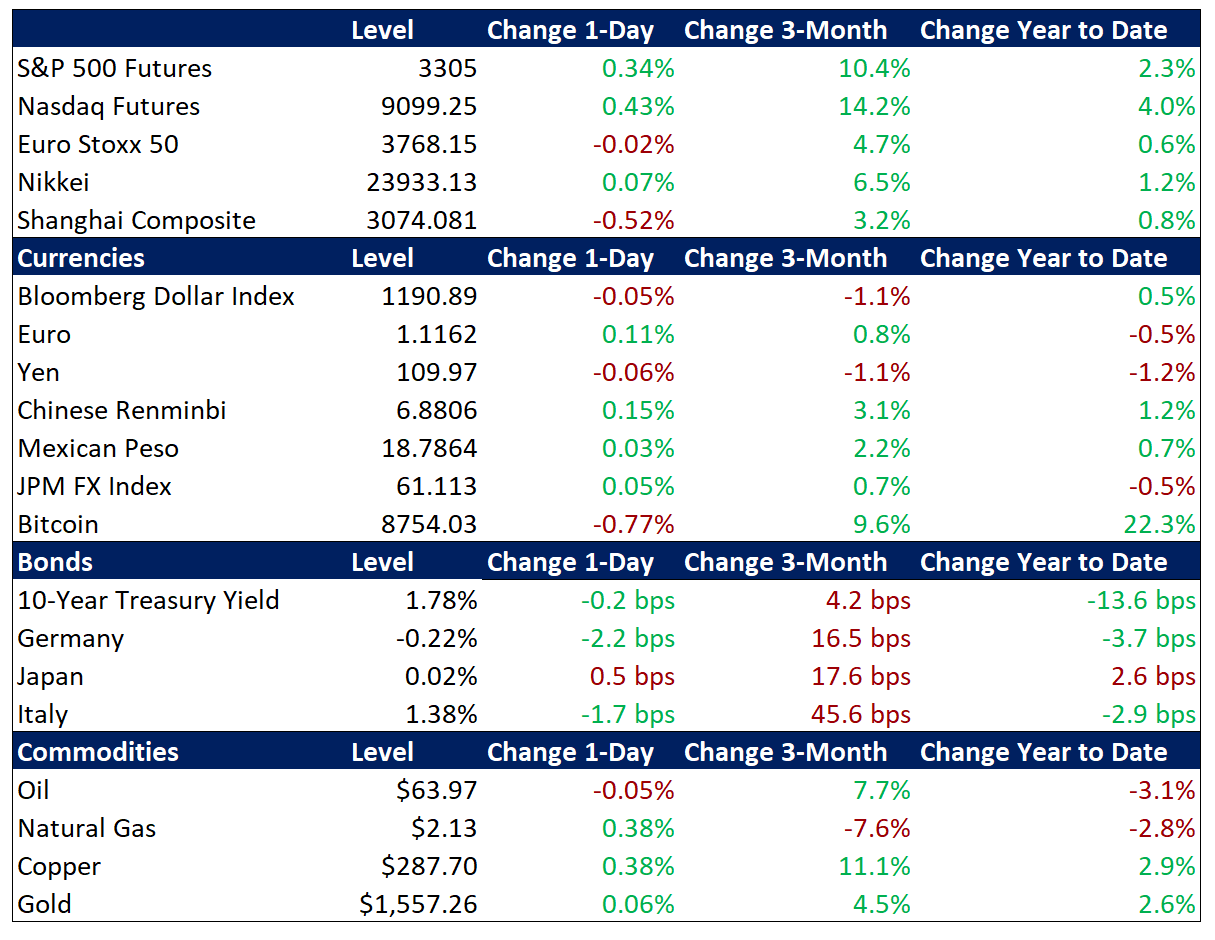 Nuanced Market Reaction to Phase One US-China Trade Deal Completion
Global risk assets have been mixed as the positive atmospherics of the Phase One trade deal signing were offset by a lower-than-expected degree of tariff relief and some lingering ambiguities in the agreement. The long-awaited Phase One US-China trade deal was signed yesterday at the White House by President Trump, who called it a "monster" deal, and Chinese Vice Premier Liu, who stated that Beijing is "full of confidence" in the positive impact of the accord. Notwithstanding these optimistic official assessments, analysts are noting few positive or negative surprises. China's pledge to import more US goods, which was Beijing's central concession for this stage of the trade deal, was roughly as expected, but soybean, corn, and cotton futures are retreating for a second day amid less clarity than anticipated on purchase quotas. Analysts are also focused on the target of $50 billion in US energy purchases over two years. Commitments to avoid competitive currency devaluation were noted, with some verbiage on enforcement that suggests scant difference from the status quo. The renminbi was up 0.2% versus the dollar overnight, extending its gains from September's low to 4.2% and reaching a five-month high. Meanwhile, the language on intellectual property protections and tech transfer lacked specifics and the continuation of US tariffs of 25% on $250 billion and 7.5% on $120 billion of Chinese imports for a 10-month window was viewed as a disappointment. Although President Trump indicated that these tariffs would be removed as part of the next stage of negotiations, which Vice President Pence said have already begun, analysts expect no progress toward a Phase Two deal before the US election in November.
 Equities Remain Upbeat Amid Mixed Corporate Earnings and News
Although the S&P 500 climbed to another record yesterday, price action at the sectoral level was disparate after some uneven fourth quarter (4Q19) corporate results. Shares of UnitedHealth Group jumped 2.5% after the health care coverage company reported 4Q19 profit that beat expectations although revenue missed estimates. Goldman Sachs' stock price fluctuated but closed slightly lower after handily beating consensus earnings expectations but posting a litigation charge of $1.1 billion. Bank of America, meanwhile, fell 1.8% despite better than expected earnings as investors focused on lower expected net interest margins in 2020 due to 2019 Fed rate cuts. Finally, shares of Blackrock, the largest asset manager in the world, closed 2.3% higher after reporting strong results and robust flows into its exchange-traded funds (ETFs). Shares of big box retailer Target fell 6.6% after the company reported disappointing holiday sales numbers, which also weighed on shares of its retailing peers. This downbeat disclosure precedes today's US December retail sales figures (more below). Today's high-profile earnings releases include Blackstone, CSX, and Morgan Stanley. And the week closes tomorrow with Citizens Bank, Fastenal, and State Street.
          Additional Themes
Solid Chinese Credit Data – China's total aggregate financing for December, which is the most comprehensive measure of credit extension that Beijing publishes, posted a significant upside surprise, suggesting that authorities are seeking to facilitate another credit-fueled growth rebound for the stuttering mainland economy. However, the more important subsector of new bank loans was slightly below estimates. This comes ahead of tonight's release of 4Q GDP, which is expected to be steady at 6.0%, and retail sales, industrial production, and fixed asset investment figures for December, which are expected to show broad stability.
 US Retail Sales Data Due – December's retail sales figures are forecast to feature a reacceleration of the headline rate to 0.3% month-on-month (m/m) from 0.2% in November, while the core metric, which strips out auto and gasoline sales, is projected to rebound to 0.4% m/m from 0% in November. Although Target's downgraded holiday sales numbers could bode ill for retail, analysts note that this disappointment could reflect the shift to online purchasing rather than overall consumer weakness.