Summary and Price Action Rundown
Global risk assets retraced some of yesterday's losses overnight amid hopes that China's augmented public health efforts will limit the outbreak of a SARS-like virus, while investors continue to monitor signs of a nascent global growth rebound and upbeat US corporate earnings. S&P 500 futures indicate a 0.3% gain at the open, which would return the index nearly to its record high from Friday as investors bet on a limited spread of the virus from its origin in Wuhan, China. US equities have been buoyant this month as investors focus on easing global trade tensions, an increasingly positive tone in fourth quarter earnings reports, and some encouraging global economic readings in recent days. Overnight, equities in Asia began today's rebound, though EU stocks are underperforming as resurgent Italian political uncertainty weighs on its domestic equities (more below). Despite the more optimistic tone in markets today, Treasuries are retaining yesterday's rally, while the dollar is flat. Crude is lower again today as analysts focus on the downside risk to demand and ample US shale oil supply.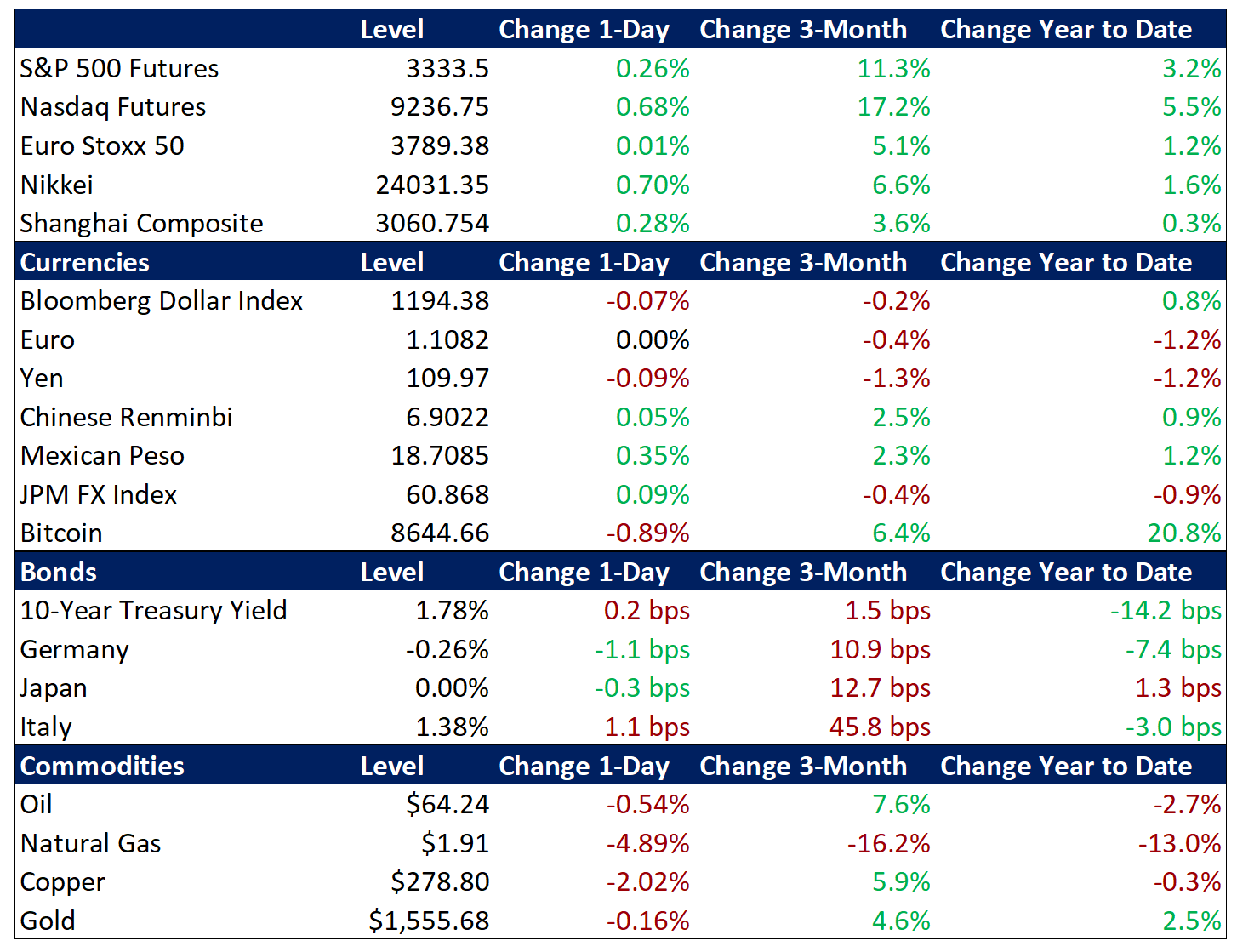 Concerns Over the Virus Outbreak Ease as China Boosts Response
Although numbers of reported infections and fatalities continue to rise, investors are hopeful that newly implemented mandatory screening and tight travel controls around the epicenter of the virus in Wuhan will stem the spread. With reported cases rising to 440 and deaths increasing to nine, alongside the first infection in Hong Kong, investors are wary of expanding contagion but risk appetite remains resilient as authorities boost their response. For context, yesterday's initial reports of the coronavirus, which is being compared to the SARS outbreak from seventeen years ago, derailed the ongoing rally for global stocks. During the US session, midday news of the first US case, located in Washington state, reversed an early session rebound for the S&P 500, with shares of luxury goods companies and airlines underperforming. Experts note that the Chinese Lunar New Year holiday, which begins this Friday, poses a substantial risk of dramatically widening the outbreak given that tens of millions of Chinese travel home or to a vacation destination for the holiday week. The Shanghai Composite rebounded 0.3% overnight after falling 1.4% yesterday, while the renminbi steadied after declining 0.5% from five-month highs versus the dollar. For our independent MPP viewpoint on the potential ramifications of this outbreak on markets, policy, and the economy, (as well as other key macro issues of the day) please sign up for our Markets Policy PRO subscription https://marketspolicy.com/markets-policy-professional/
 US Corporate Earnings Continue to Impress
Fourth quarter (4Q19) corporate results remain supportive of US equities amid more high-profile upside earnings surprises. After yesterday's closing bell, Netflix issued nuanced results, with earnings beating estimates but new subscribers coming in lower than expected. Investors are focusing on the positive outlook from management, however, and Netflix shares are up 2.1% in pre-market trading. Meanwhile, IBM impressed analysts, beating both sales and profit projections on strong cloud computing business, sending its shares 4.2% higher ahead of today's opening bell. Last week, shares of JPMorgan, Morgan Stanley, Goldman Sachs, and Citi all rallied after their results, kicking off 4Q19 earnings season on a positive note. Other reporting companies that impressed investors last week include rail giant CSX, financial services mainstay Charles Schwab, and asset management leader BlackRock. Trucker JB Hunt, oilfield services provider Schlumberger, and industrial bellwether Fastenal were among the few disappointments, and shares of each experienced only moderate downside. Of the 54 S&P 500 companies that have reported 4Q19 results, 71% have topped earnings expectations and 67% have beaten sales estimates. Today's reports feature Johnson & Johnson, Northern Trust, Baker Hughes, and Raymond James. Progressive, American Airlines, Discover, Intel, Southwest, M&T Bank, Proctor & Gamble, Starbucks, Travelers and American Express all report later this week.
Additional Themes
Italian Political Uncertainty – Signs that the fragile coalition government formed by the populist Five Star party and its unnatural allies in the moderate Democratic Party may be in its final days are weighing on local assets, although price action remains moderate. The benchmark Italian equity index is down 0.3% with shares of local banks leading to the downside with losses of 1.7%. However, Italian bank stocks recently touched their best level since September 2018 earlier this month, so they remain well shy of 2019's lows. Italian bonds are also lagging, but their yield spread over German bunds (a key market-based indicator of Italian sovereign risk) is only 2 basis points wider to 1.63% today, barely wider than its best level in two years.
 Trump Touts Tax Cuts – In remarks from the World Economic Forum at Davos this morning, President Trump indicated that his administration would issue a middle class tax cut proposal in the coming days. He also made relatively balanced comments on the dollar, the Fed, and trade.