Summary and Price Action Rundown
Global risk assets were mostly lower overnight as investors continue to monitor China's efforts to contain the outbreak of a SARS-like virus while awaiting more US corporate earnings and a European Central Bank meeting this morning. S&P 500 futures point to a flat open after yesterday's choppy session, which would hold the index just below its record high from Friday. Investors continue to ponder the ramifications of the viral outbreak emanating from central China as reports of its spread dampen global growth expectations and market sentiment generally. Overnight, equities in Asia turned lower again, with mainland Chinese stocks leading to the downside before a week-long closure for the Lunar New Year holiday. Meanwhile, EU stocks are dipping ahead of the European Central Bank decision. Treasuries are extending their recent rally as investors seek safe havens, while the dollar remains flat. Crude is continuing to slide as analysts focus on demand risks and ample US shale oil supply.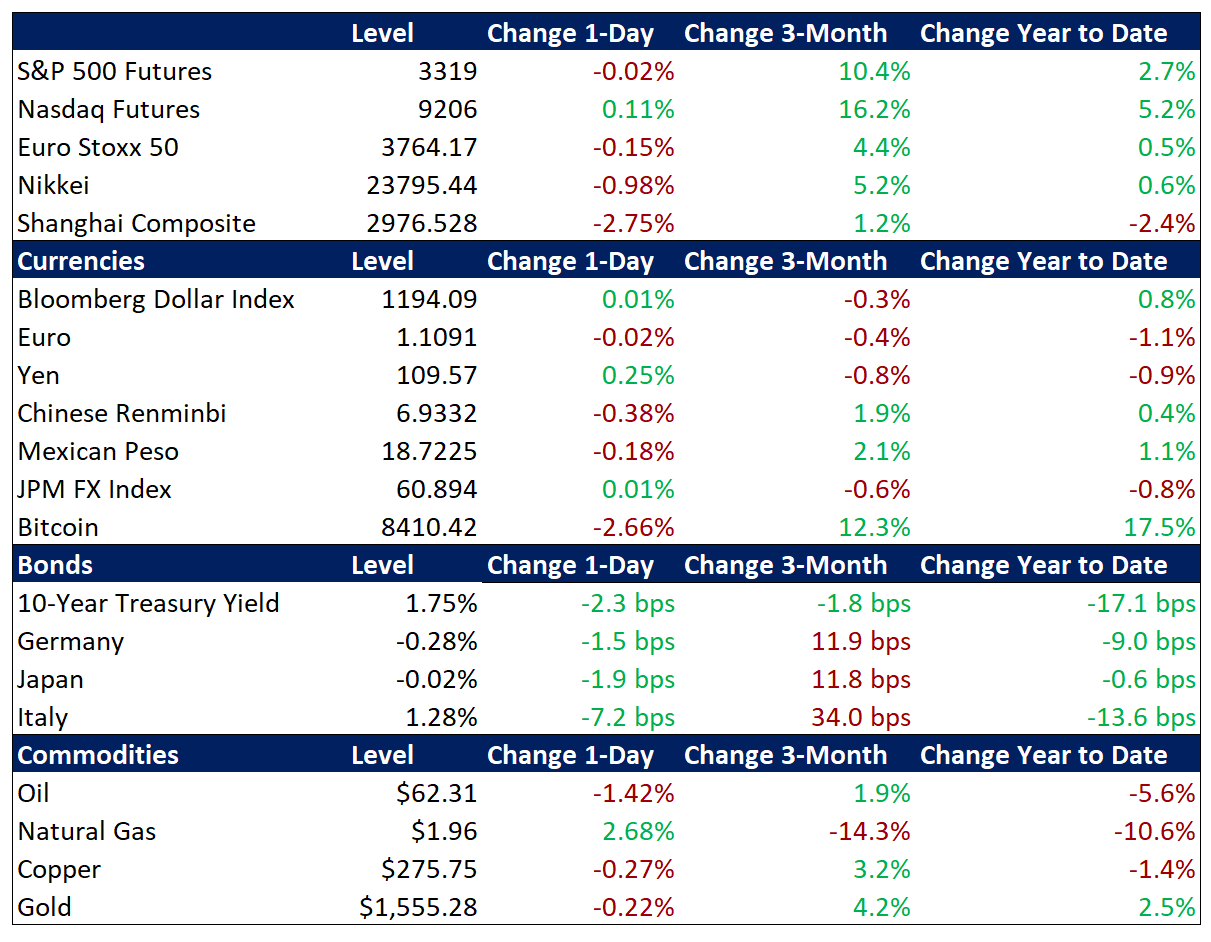 Concerns Over the Virus Outbreak Keep Global Equities in Check
While numbers of reported infections and fatalities continue to rise, investors are hopeful that newly implemented mandatory screening and tight travel controls around the epicenter of the virus in Wuhan will stem the spread. With reported cases rising to 555 and deaths increasing to 17, alongside the first infection in Hong Kong, investors are wary of expanding contagion. Outside of Asia, where the infections and equity losses have been concentrated, risk appetite remains generally resilient as analysts assess the effectiveness of China's intensifying efforts to contain the spread. Reports over the last day have focused on tightened travel restrictions around the epicenter of the outbreak in Wuhan and the surrounding cities, as well as mandatory screening. The Shanghai Composite sank 2.8% overnight to put losses at 3.9% since the first reports of the outbreak. Meanwhile, the renminbi continued its slide below its recent five-month highs versus the dollar, losing 0.4% overnight for a three-day decline of 1.0%. For context, mainland markets will be closed for a week starting tomorrow for the Lunar New Year holiday. Experts note that the holiday poses a substantial risk of dramatically widening the outbreak given that tens of millions of Chinese travel home or to a vacation destination for the holiday week. Cases outside of China remain limited thus far, with isolated infections in the US (Washington state), Japan, Thailand, South Korea, Taiwan, Hong Kong, and Macau.
 Corporate Earnings Remain Broadly Upbeat Despite Some Uneven Results
Yesterday's fourth quarter (4Q19) corporate reports again featured a number of high-profile upside earnings surprises, although some disappointments were in the mix. Shares of Capital One jumped 4.5% after the bank reported 4Q earnings of $2.49 a share, which topped analyst's estimates of $2.37. The beat was driven by higher loan and deposits along with strength in the credit card business. However, shares of regional bank Zions fell 4.1% after reporting a fourth straight quarter of declining loan balances. Northern Trust also saw its share price fall, losing 3.3% in trading yesterday as earnings per share of $1.70 came in below expectations of $1.77 along with rising expenses that were above analyst's estimates. After Tuesday's closing bell, Netflix issued nuanced results, with earnings beating estimates but new subscribers coming in lower than expected, sending its shares down 3.6% yesterday. Meanwhile, IBM impressed analysts, beating both sales and profit projections on strong cloud computing business, lifting its shares 3.4%. Of the 64 S&P 500 companies that have reported 4Q19 results, 71% have topped earnings expectations and 67% have beaten sales estimates. Intel, Comcast, Proctor & Gamble, American Airlines, Discover, Southwest, and Freeport McMoRan all issue earnings today, while American Express reports tomorrow to close the week.
          Additional Themes
European Central Bank (ECB) in the Spotlight – In her second meeting as head of the ECB, President Lagarde is set to detail the upcoming strategic policy review that she is spearheading, which is due to be published in about a year. She has indicated that the focus of the review will be on the ECB's approach price stability, while tackling climate change will be a key consideration. Otherwise, policy settings are expected to remain fixed at today's meeting. This comes after the Bank of Canada (BoC) left its benchmark interest rate unchanged at 1.75% yesterday but shifted to a more accommodative tone, sending the Canadian dollar 0.7% lower versus the US dollar since the meeting. Next week, the Bank of England meets, with futures markets pricing in 58% odds of a cut in the policy rate from 0.75% to 0.5%.
 Crosstalk on EU Car Tariffs – Although the tone from the World Economic Forum in Davos has been generally constructive, analysts are parsing mixed signals from the Trump administration on the possibility of imposing tariffs on EU autos. While President Trump stated yesterday that he would be "very surprised" if he had to implement tariffs on European cars, he and other administration officials have reiterated to threat to do so in the absence of a trade deal.