Summary and Price Action Rundown
Global risk assets steadied overnight as investors remain wary and reactive to news of the expanding outbreak of the SARS-like virus in China while parsing US corporate earnings and some key global economic data this morning. S&P 500 futures indicate a 0.2% higher open after another directionless session yesterday, which would put the index back to its record high from Friday. Investors continue to ponder the ramifications of the viral outbreak emanating from central China as reports of its spread cloud global growth expectations and market sentiment generally. Overnight, equities in were mostly higher, but mainland Chinese stock markets have begun a week-long closure for the Lunar New Year holiday. In the EU, stocks are outperforming amid upbeat corporate news. Treasuries are ceding some gains from their recent rally though investor demand for safe havens remains elevated, while the dollar is edging up as central bank easing expectations depress the pound and the euro (more below). Crude oil remains under pressure, with Brent at its lowest level in over a month, below $62 per barrel, as analysts continue focus on worsening demand risks and ample US shale oil supply.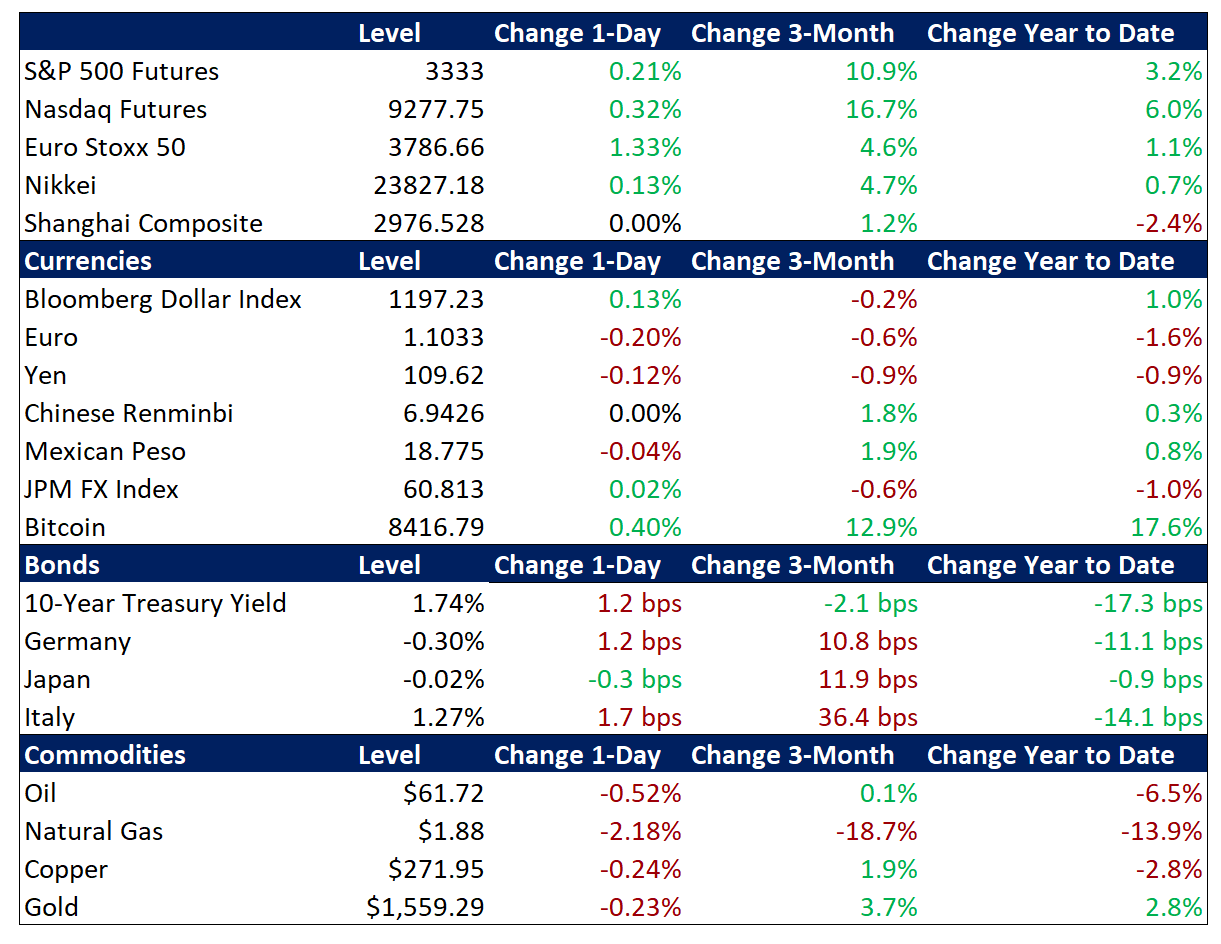 Investor Sentiment Holds Up Despite Ongoing Virus Outbreak
Numbers of reported infections and fatalities continue to rise, but investors are hopeful that mandatory screening and tight travel controls around the epicenter of the virus in Wuhan will stem the spread. With reported cases rising to 881 and deaths increasing to 26, investors are warily continuing to monitor the expanding contagion. Outside of Asia, where the infections and equity losses have been concentrated, risk appetite remains generally resilient as analysts assess the effectiveness of China's intensifying efforts to contain the spread. Reports this morning indicate that ten Chinese cities and roughly 40 million people are under varying degrees of travel restrictions and many public and private venues are cancelling events. Meanwhile, mainland markets will be closed for a week starting today for the Lunar New Year holiday. Cases outside of China remain limited thus far, with isolated infections in the US (Washington state), Japan, Thailand, Singapore, South Korea, Taiwan, Hong Kong, and Macau.
 Corporate Earnings Remain Broadly Supportive of Stocks
The second week of fourth quarter (4Q19) corporate reporting season is closing out on a generally upbeat note as investors look ahead to key releases next week. Shares of Intel are 6.0% higher in pre-market trading, heading for a new 20-year high, after the chip giant handily topped both earnings and revenue forecasts for 4Q19 and management conveyed a positive outlook for this year. Results for last quarter were also supportive for shares of US pipeline operator Kinder Morgan yesterday, as well as for US railroad operator Union Pacific. There was some unevenness to yesterday's results, however, as insurance giant Travelers, investment bank Raymond James, consumer bellwether Procter & Gamble, and mining giant Freeport MacMoRan posted varying degrees of disappointments for investors. Of the 79 S&P 500 companies that have reported 4Q19 results, 73% have topped earnings expectations and 67% have beaten sales estimates. American Express reports this morning to close the week. The busiest segment of earnings season still lies ahead, with Apple, Microsoft, Facebook, Amazon, McDonalds, Boeing, UPS, Coca-Cola, Caterpillar, ExxonMobil, Starbucks, Lockheed Martin, Tesla, Whirlpool, UPS, Pfizer, 3M, and Honeywell among the key reports due next week.
          Additional Themes
Mixed EU Economic Data – January's preliminary composite purchasing managers' index (PMI) for the EU undershot estimates, printing 50.9 to match the prior month's reading versus a consensus forecast of improvement to 51.2. For context, PMI readings above 50 denote expansion. The underlying details were somewhat more encouraging than the headline figure, however, as the manufacturing PMI, which has been the main source of weakness in the region, improved to 47.8, beating estimates of 46.8 and December's 46.3. Services PMI dipped to 52.2 versus expectations for this gauge to remain steady at 52.8. Importantly, Germany's manufacturing and services PMI readings both posted upside surprises, although the former remained in contractionary territory at 45.2. This follows yesterday's decision by the European Central Bank (ECB) to keep policy settings on hold. This morning, however, President Lagarde indicated that ECB policy is not on "autopilot," which sent the euro lower, as most analysts expect that any additional moves would be further accommodation.
Better UK Economic Data – The UK's January PMI readings beat projections on both the manufacturing and service segments, which dampened expectations for a rate cut by the Bank of England (BoE) next week, though futures still see 48% odds of a move from 0.75% to 0.5%.
 Next Week – In addition to earnings and the BoE and Fed meetings, analysts will be attuned to US 4Q GDP, December's US income, spending, and price data, and China's December PMI.