Summary and Price Action Rundown
Global risk assets are rebounding for a second straight session as investors hope for a limited impact of the Wuhan virus and focus on key US corporate earnings reports. S&P 500 futures point to a 0.4% gain at the open as the index continues to rebound from Monday's steep loss of 1.6%, with the downside from its record high earlier this month at 1.6%. Investors are attempting to look past the probably short-lived economic impact of the viral outbreak emanating from central China though reports of its spread are keeping volatility relatively elevated (more below). Overnight, equities in Asia rebounded in tandem with the S&P 500 but gains were only modest, while mainland Chinese and other regional stock markets remain closed for the Lunar New Year holiday. In the EU, stocks are also moderately higher. Elevated uncertainty remains supportive of Treasuries, with the 10-year yield hovering just above three-month lows at 1.63%, while the dollar is once again little changed. Crude oil is retracing a portion of its steep downtrend, with Brent regaining $60 per barrel.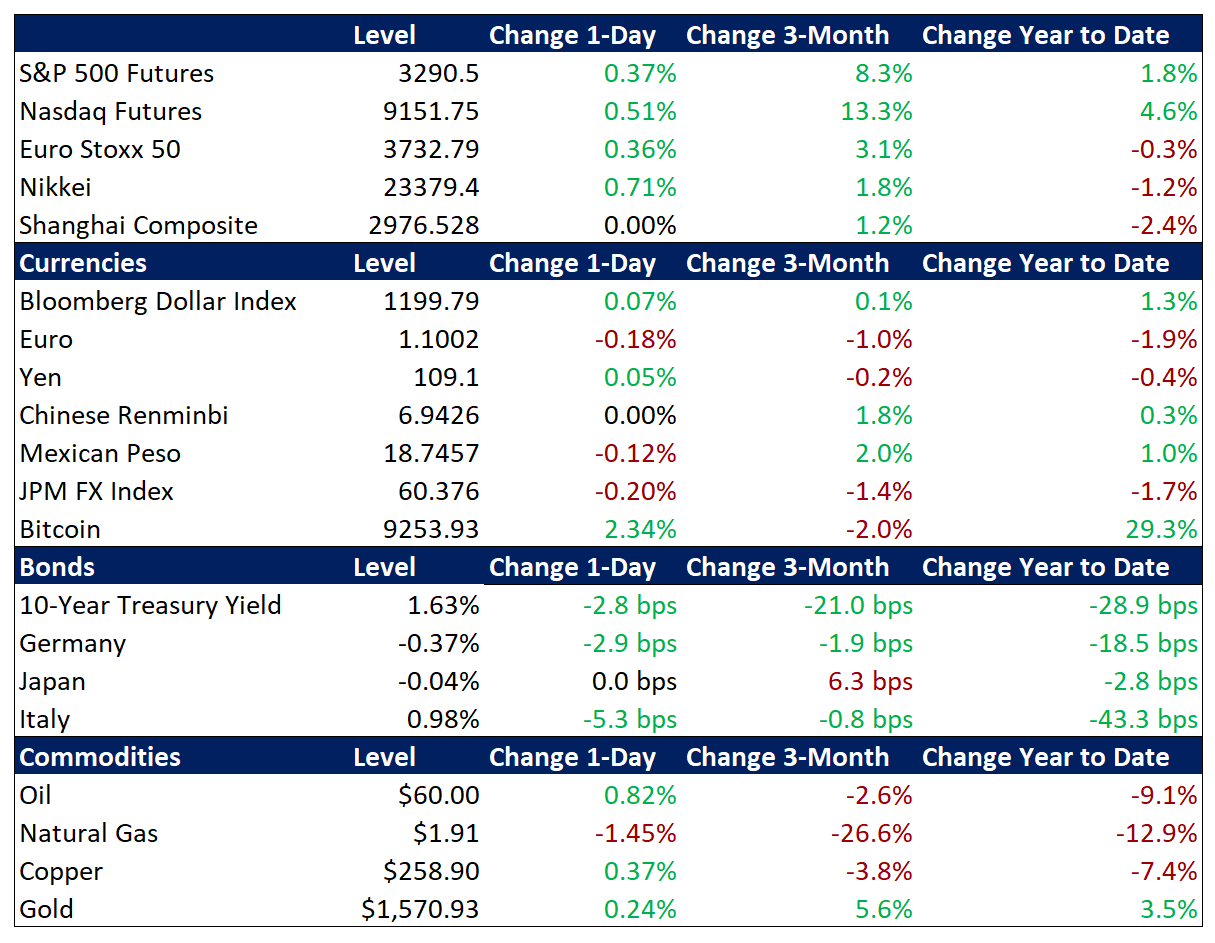 Market Sentiment Stabilizes Despite Spreading Wuhan Virus
Global market resilience is on display again today though investors continue to monitor increases of reported infections and fatalities and note the apparently lengthy incubation period, difficulty in detection, and high contagiousness. With reported cases rising to 6,057 and deaths increasing to 132, investors are continuing to monitor the expanding contagion, but investor concerns have eased as the most recent news, while troubling, suggests that the coronavirus should be roughly analogous to SARS, which had a limited impact on growth and equity markets over the medium term. Though price action is reflective of building investor optimism, official Chinese statements on the situation remain cautious, with Premier Li overnight calling the outbreak "grim and complex." Market participants also note that Hong Kong officials are now blocking travel to and from the mainland. Over the weekend, analysts focused on reports detailing the highly contagious nature of the virus, which unlike SARS can spread during an asymptomatic gestation period that is estimated to last as long as ten days in some cases. Meanwhile, mainland markets, which closed starting last Friday for the Lunar New Year holiday, are set to remain shut beyond their scheduled reopening on Friday to the following Monday, at the earliest, although reports indicate that other business are preparing to stay closed for longer. Cases outside of China remain limited thus far.
 Corporate Earnings Continue to Support Equities
Amid a busy calendar of fourth quarter (4Q19) corporate reports, some disappointments have occurred this week, but they remain the exception to broadly upbeat results. Apple reported a strong set of figures after yesterday's closing bell, centered around strong iPhone sales, sending its stock 2.1% higher in pre-market trading. Starbucks also topped estimates but the impact of the virus on its sales in China are clouding the outlook, with its shares 1.6% lower ahead of the market open. Yesterday, shares of 3M plunged 5.7% after reporting disappointing quarterly earnings and revenue and announcing 1,500 job cuts across the company. Drugmaker Pfizer posted a similar downside surprise, with its stock closing down 5.1% and Harley-Davidson fell 3.0% after the company reported a continuing decline in its US sales, citing demographics headwinds. In other corporate news, Boeing secured more than $12 billion in financing to help fund its efforts to fix the 737 Max. Today's reports include McDonalds, Microsoft, Facebook, Boeing, and Tesla. Of the 122 S&P 500 companies that have reported 4Q19 results, 73% have topped earnings expectations and 66% have beaten sales estimates. The rest of the week features Amazon, UPS, Coca-Cola, Caterpillar, ExxonMobil, UPS, and Honeywell.
          Additional Themes
Fed Decision Due – Ahead of today's meeting of Federal Reserve, futures markets are pricing in no chance of a rate cut and negligible odds of a hike, as Fed officials have continued to signal a pause in their monetary easing cycle that included three consecutive rate cuts and a restart of asset purchases to expand the balance sheet in the second half of last year. Expectations are for a continued dovish tone, and futures reflect the restart of rate cuts later this year. Recently, various current and former Fed officials have made public statements seeking to dispel the relatively widespread perception among market participants that the renewed asset purchases and other efforts to inject liquidity into short-term funding markets, are a stealthy form of quantitative easing (or QE) and are fueling the ongoing rise in US equity prices. For context, the timing of this new asset buying program neatly coincides with a steep 15% gain in the S&P 500.
Mixed US Economic Data – December's core durable goods orders fell 0.9% on the month, while the market was expecting no change. Home prices were strong, however, as the S&P CoreLogic Case-Shiller National Home Price Index Nationally, home prices rose 3.5% annually in November, up from 3.2% in October, after seeing decreases for much of 2019.