Summary and Price Action Rundown
Global risk assets tumbled overnight, reversing a two-day rally, as investor hopes for a limited impact of the Wuhan virus dim amid the continued outbreak, while earnings turn more mixed. S&P 500 futures indicate a 0.7% loss at the open, which would deepen the index's 1.7% downside from its record high earlier this month. Over the prior two sessions, investors had been attempting to look past the economic impact of the viral outbreak emanating from central China but concerning reports of its spread are pushing volatility levels higher again (more below). Overnight, equities in Asia posted significant losses, with Taiwan's benchmark equity index plunging 5.8% upon reopening from its holiday closure. Meanwhile, mainland Chinese markets remain closed for the Lunar New Year holiday, with the reopening delayed until Monday at the earliest. EU equities are also down more than 1%. The re-intensifying risk aversion is lending further support to Treasuries, with the 10-year yield sinking to new three-month lows at 1.56%, while the dollar is once again little changed. Crude oil is resuming its steep downtrend amid a darkening demand outlook, with Brent falling toward $58 per barrel.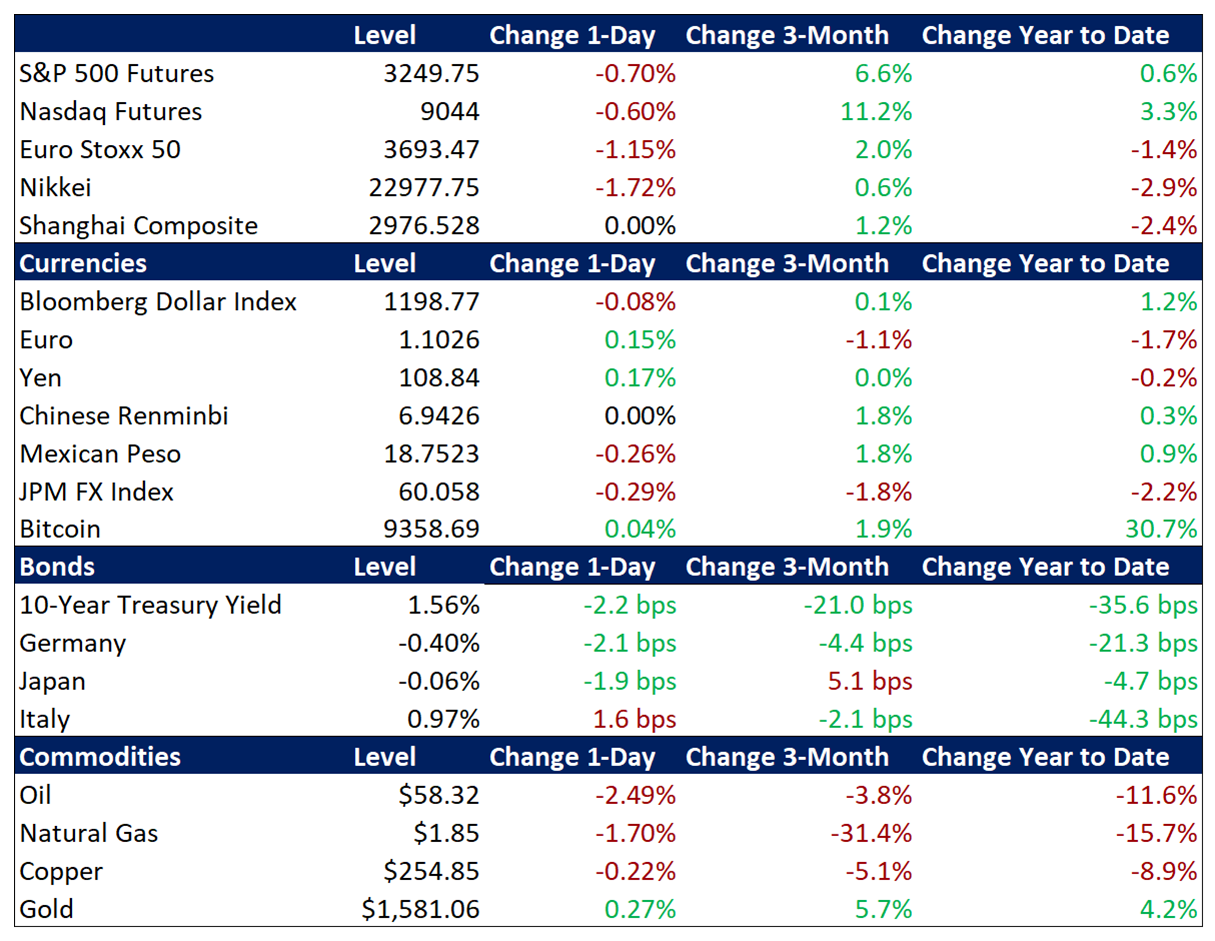 Relapse into Risk Aversion as Wuhan Virus Outbreak Expands
Investor fears over the human and economic costs of the virus intensified overnight amid rising reported infections and fatalities despite significant efforts to slow the spread. With reported cases climbing to 7,783 and deaths increasing to 170, investors are continuing to monitor the expanding contagion while debating whether the coronavirus should be roughly analogous to SARS, which had a limited impact on growth and equity markets over the medium term. Official Chinese statements on the situation remain cautious, with Premier Li yesterday calling the outbreak "grim and complex" while Russia is taking steps today to close its massive land border with China in an attempt to halt transmission. On the market front, Asian assets are unsurprisingly suffering the heaviest losses, and mainland markets are set to post steep declines when (or if) they reopen next week. While the official renminbi is not trading, the offshore version briefly depreciated past the closely-watched 7 per dollar level and losses since January 20th are nearing 2%. Meanwhile, a US-listed ETF of Chinese equities is trading 8.7% lower over that period.
 Corporate Earnings Turn More Mixed
Amid a busy calendar of fourth quarter (4Q19) corporate reports, Facebook's disappointing results are dampening sentiment, but overall trends remain upbeat. Facebook shares are down 7.3% in pre-market trading after the social media giant issued downbeat 4Q results following yesterday's closing bell. Share of Apple, however, rose 2.1% yesterday after 4Q earnings easily beat analyst expectations. Boeing lost $636 million in 2019, which was the company's first annual loss in 20 years, due to the drag from the grounded 737 Max. Still, its shares rose 1.7% on optimism that the FAA could approve the revamped 737 by mid-year. McDonald's rallied 1.9% and GE jumped 10.3% as both companies topped estimates. While AMD 4Q earnings narrowly beat expectations, shares of the semiconductor maker plunged 6.0% after the company offered weak 1Q20 revenue guidance. Of the 182 S&P 500 companies that have reported 4Q19 results, 73% have topped earnings expectations and 66% have beaten sales estimates. The rest of the week features Amazon, UPS, Coca-Cola, Caterpillar, ExxonMobil, UPS, and Honeywell.
          Additional Themes
Accommodative Fed Tone – The Federal Reserve held steady yesterday and Chair Powell gave a balanced assessment of the outlook at the press conference, but futures markets continue to price in more cuts over the coming year, which is not consistent with an upbeat economic outlook. The Fed also said that overnight repo operations will continue at least through April 2020 to ensure that there is an ample supply of reserves throughout the financial system. However, the interest on excess reserves rate (IOER) was raised by 5 basis points (bps) to 1.6%, aiming to keep the federal funds rate within the FOMC's target range, as IOER works a guardrail for the funds rate.
Bank of England (BoE) Holds Rates – With futures reflecting 50% odds of a cut, the BoE retained its rate settings in Governor Carney's last meeting in a 7-2 vote. The pound gained 0.5% versus the dollar but remains modestly below its strongest level in around a year. This comes after a recent string of mostly downbeat UK data, although the orderly Brexit which will occur at month-end avoided the worst case scenario of a "no deal" departure.
US GDP Data Due – Later this morning, analysts will note the preliminary reading of 4Q US GDP, which is forecast to slip to 2.0% from 2.1% the prior quarter, although some estimates, including the Atlanta Fed's GDP tracker figure of 1.7%, are moderately lower.