Summary and Price Action Rundown
Global risk asset prices turned mostly lower overnight as Apple's downgraded revenue outlook due to the coronavirus outbreak has dampened hopes of a shallow and fleeting impact of the epidemic. S&P 500 futures point to a 0.5% loss at the open, which would bring the index just below Friday's latest record high. Investor optimism over apparently slowing infection rates and renewed production and other economic activity in China had helped spur US and global equities higher over the past week, but the ongoing spread of the virus and the impact reported by Apple has reintroduced a degree of caution. Overnight, equities in Asia were mostly lower, though the Shanghai Composite closed flat, while EU stocks are posting losses of 0.6%. Treasuries are rallying amid the rising concerns over the economic impact of the virus, sending yields back toward recent lows, with the 10-year at 1.54%. The dollar, meanwhile, is continuing to hold steady after its year-to-date rally. Crude oil prices are retracing a portion of last week's rebound, with Brent crude falling below $57 per barrel.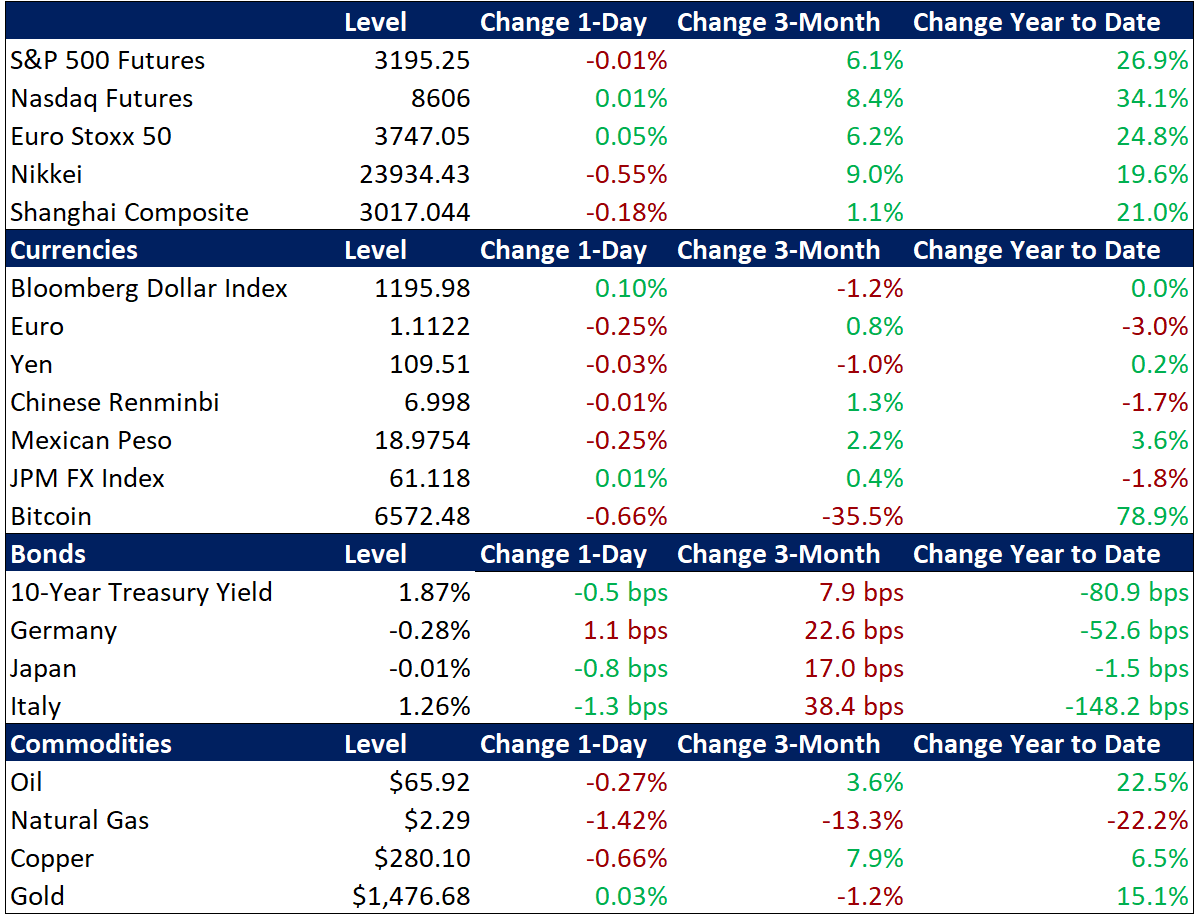 Apple Revenue Downgrade Spurs Concerns Over the Impact of the Outbreak
Many market participants had been betting on a brief and modest hit to economic activity from the virus (now named Covid-19), but yesterday's warning from tech giant Apple has undermined the upbeat assumptions. Last evening, reports indicated that Apple is downgrading its projections, warning that it will not meet revenue targets this quarter due to the effects of the Covid-19 outbreak. Specifically, iPhone supplies are set to be "temporarily constrained" and demand in China is taking a hit amid a "slower return to normal conditions that we had anticipated." Shares of Apple are 3.2% lower in pre-market trading, after registering an all-time high last Wednesday. Meanwhile, reports also indicate that some customers in Russia, Turkey, and elsewhere are no longer accepting metals and other goods from China for fear of the contagion. For context, many investors had been pinning hopes of only a fleeting impact of the outbreak on declining numbers of new infections in Hubei province, the epicenter of the epidemic, although questions about the credibility of China's data were raised last week following a dramatic upward revision in the official cases due to revised diagnosis guidelines. Now, total infections are reported to be 73,336 while fatalities have reached 1,874. The Shanghai Composite was flat overnight after a 2.3% rally on Monday, spurred by easing measures from the People's Bank of China (more below), with year-to-date losses at a mere 2.1%. The renminbi, however, slid 0.3% overnight, dipping back below the closely-followed 7 to the dollar level.
 Officials Assessing the Economic Impact of Covid-19
Economic data is beginning to reflect the effects of the epidemic as officials from various countries cite the emerging drag on growth. Germany's influential ZEW economic survey index undershot estimates for February, as its compilers cited rising concerns among respondents about the outbreak. The expectations component fell to its weakest level since November at 8.7, missing estimates of 21.5 and the prior month's 26.7, while the current situation gauge slid to -15.7 versus a forecast of -10.0 and January's -9.5. Also this morning, EU finance ministers, importantly including potential holdout German Finance Minister Scholz, issued a joint statement advocating a fiscal response in the event of a downturn in the regional economy. Meanwhile, overnight, the Reserve Bank of Australia characterized the outbreak as a "material near-term risk to the economic outlook" and South Korean President Moon stated that the growth fallout was "worse than expectations" and called for extraordinary stimulus measures to support local corporates. This comes after the People's Bank of China over the weekend cut one of its medium-term funding rates (the 1-year loan facility) by 10 basis points to 3.15% and injected liquidity of 100 billion renminbi, while officials also pledged to cut corporate taxes and other fees to boost economic activity amid the mass quarantines. Beijing is also in the process of offering tariff exemptions on 696 US products as part of its commitments to the Phase One trade deal, which is also supportive of growth.
          Additional Themes
Key Data Due This Week – This week, global manufacturing purchasing managers' indexes (PMIs) are expected to show continued softness even before the full impact of the Covid-19 outbreak, although analysts note that risks are skewed significantly to the downside. Amid growth fears, futures markets reflect around 50% odds of a return to Fed rate cuts by June.
Walmart Earnings Disappoint – Shares of the mega-retailer are down 1.2% in pre-market trading after management reported lower-than-expected earnings for the key fourth quarter holiday shopping season and posted disappointing sales metrics. Its outlook for the coming quarters was also downbeat, even without any estimated impact from the Covid-19 outbreak factored in, although management continues to monitor the situation.