Summary and Price Action Rundown
Global risk assets remain under pressure this morning as investors continue to grapple with fears of a global pandemic and the potentially severe economic fallout thereof. S&P 500 futures indicate a 0.9% lower open to extend its four-session loss of 10.8% this week, which has put the index 12.0% below last Wednesday's latest record high. The first suspected case of "community spread" coronavirus in California, alongside rapidly expanding outbreaks around the world, principally in South Korea, Japan, Italy, and Iran, have raised the risk that the virus will significantly hamper economic activity worldwide. Overnight, equities in Asia again fell sharply, with the Shanghai Composite joining the rout. Treasuries are extending their historical rally, driven by heightened safe haven demand and a darkening economic outlook, with the 10-year yield trading near a record low at 1.19%. The dollar, however, is continuing to hover below recent multi-year highs. Brent crude prices are falling toward $51 per barrel.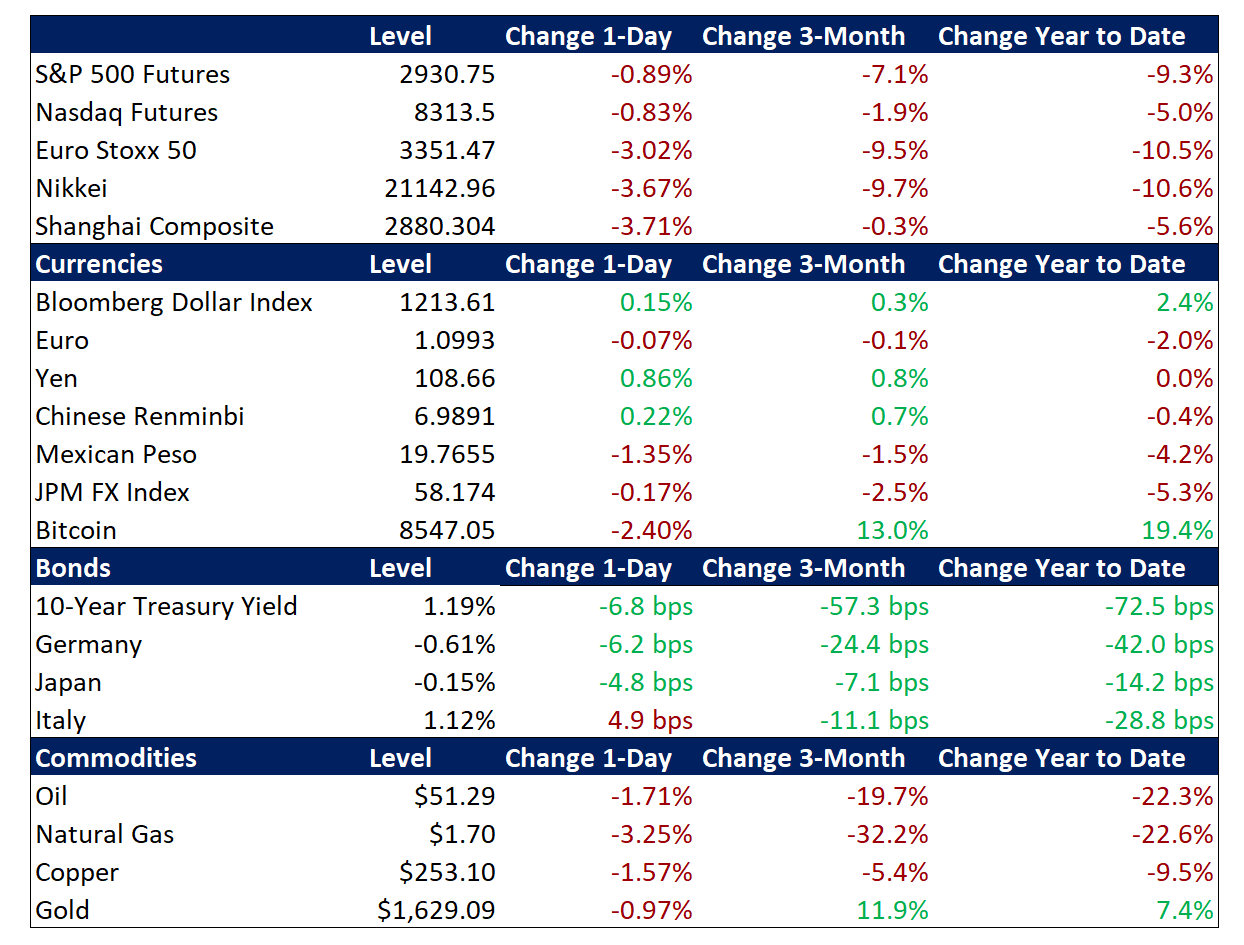 Coronavirus Fears Continue to Roil Global Markets
News of the first likely case of community spread of the coronavirus in the US, alongside widening outbreaks in numerous other countries, have greatly darkened market sentiment this week. The latest developments are forcing investors to confront the likelihood of a wider, lengthier, and deeper impact of the epidemic, or even its expansion into a global pandemic. CDC officials are counseling preparedness for a pandemic, meaning "community spread" of the coronavirus and a "significant disruption to our lives" in the US, but note that the trajectory of the outbreak remains "very uncertain." The first case of suspected "community spread" near San Francisco is raising concerns, alongside the increasing numbers of individuals being monitored for the disease in California, New York, and Boston. Rising infection figures and expanding quarantines in Italy, Germany, Japan, South Korea, and other countries have dispelled prior optimism over the prospects for quick containment, which had lifted global equity markets over the past few weeks. Analysts are noting that the northern Japanese island of Hokkaido has declared a state of emergency and Nigeria has identified its first case. Now, total infections are reported to be 83,704 while fatalities have reached 2,859. Regarding the economic costs, rating agency Moody's has noted that a worldwide recession is likely in the event of a pandemic, prominent economists are slashing their growth figures for the coming quarters, and the list of companies downgrading their 2020 profit forecasts due the epidemic continues to grow. – MPP note: We are arranging a call for our clients with noted epidemiologist Dr. Christopher Mores on Tuesday next week. Please send any advance questions in a reply to john.fagan@marketspolicy.com and stand by for details of the call.
Global Equities Fall Sharply but Remain Orderly
Heavy losses for stock prices worldwide this week are realigning those markets with the grim outlook that had already been reflected in tumbling Treasury yields and depressed commodity prices, though there are currently no serious indications of systemic stress or market malfunctioning. Investors are pondering what will stem the ongoing rout in global equities, which is reportedly the fastest "correction" in history and the steepest losses for US equities since 2008. For context, a "correction" is traditionally considered to be a stock market loss of over 10% from recent highs, a threshold the S&P 500 crossed in yesterday's trading, while a "bear market" is generally associated with sustained losses of 20%. Though the selloff has been significant, there have been no reports of difficulties in trading or "flash crash" conditions, which might suggest any systemic malfunctioning. Meanwhile, the VIX, a US equity volatility gauge, is reflecting turbulence on par with the 2015 global deflation scare but still less acute than the EU debt crisis phase of 2011. Although some analysts are suggesting that the stock market selloff has gone too far, too fast this week, it may be particularly challenging for a meaningful rebound to materialize on a Friday. Generally, global equities have struggled to post gains on Fridays during the duration of this outbreak as investors are particularly wary of adding risk to their portfolios going into the weekend on concerns that adverse developments when markets are closed could lead to unavoidable losses on Monday.
Additional Themes
Futures Reflect More/Faster Fed Rate Cuts – The 10-year Treasury yield is now trading at 1.19% after earlier this week breaking below the prior all-time intraday low of 1.32% registered during the global deflation scare of 2016. Treasury yield curves (the yield spread between Treasuries of differing maturities) remain flat, and in some cases inverted, which is considered a warning of impending recession. Meanwhile, futures markets are pricing in nearly two full Fed rate cuts by April and 100% odds that the Fed starts lowering rates again at the March 18 meeting.
US Economic Figures Due – Although data for January is stale, investors will parse personal income, spending, and inflation data to gauge US economic vitality ahead of the epidemic.