Summary and Price Action Rundown
Global risk assets are retreating again this morning after yesterday's brief pause as investors continue to grapple with concerns that the coronavirus is developing into a global pandemic. S&P 500 futures point to a 1.0% lower open to extend its three-session loss of 6.6% this week, which has put the index 8.0% below last Wednesday's latest record high. Rapidly expanding outbreaks outside of China, principally in South Korea, Japan, Italy, and Iran, have raised the risk that the virus will significantly hamper economic activity worldwide. Overnight, equities in Asia were mostly down again, with the Shanghai Composite outperforming. Treasuries are continuing their rally, driven by heightened safe haven demand and a darkening economic outlook, with the 10-year yield trading near a record low at 1.29%. The dollar is continuing to fluctuate below recent multi-year highs. Brent crude prices are falling toward $52 per barrel.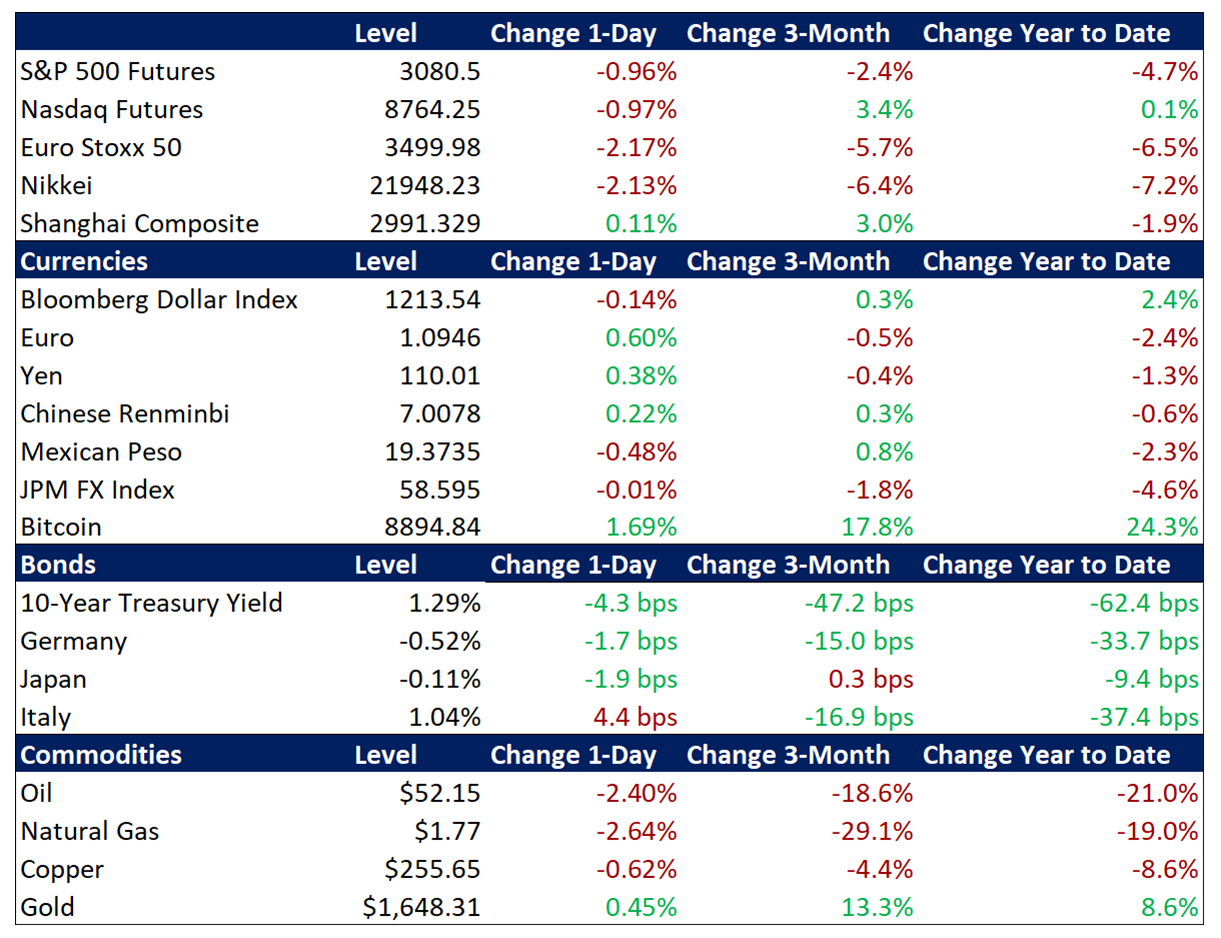 Coronavirus Fears Continue to Drive Market Volatility
News of the first likely case of community spread of the coronavirus in the US, alongside widening outbreaks in numerous other countries, are weighing further on market sentiment. The latest developments are forcing investors to confront the likelihood of a wider, lengthier, and deeper impact of the epidemic, or even its expansion into a global pandemic. CDC officials are counseling preparedness for a pandemic, meaning "community spread" of the coronavirus and a "significant disruption to our lives" in the US, but note that the trajectory of the outbreak remains "very uncertain." Last evening, President Trump gave a press conference focusing on the coronavirus and placing Vice President Pence in charge of the response. Rising infection figures and expanding quarantines in Italy, Japan, South Korea, and other countries have dispelled prior optimism over the prospects for quick containment, which had lifted global equity markets over the past few weeks. News out of China, however, has taken a more positive tone, with various provinces reducing their threat levels and reports of increasing factory activity. Now, total infections are reported to be 82,446 while fatalities have reached 2,808. Regarding the economic costs, rating agency Moody's has noted that a worldwide recession is likely in the event of a pandemic and some prominent Wall Street strategists are calling for more downside for US equity markets in the near-term. Meanwhile, the list of companies downgrading their 2020 profit forecasts due the epidemic continues to grow.
Investors Monitor Overseas Stimulus Efforts and Fed Easing Prospects
Recent Fed communications have conveyed a steady policy stance despite concerns about the impact of the outbreak, while markets see rate cuts restarting in the coming months as stimulus measures also ramp up overseas. Analysts are noting a Wall Street Journal op-ed this morning from former Fed Board Member Kevin Warsh advocating for front-loaded Fed easing in coordination with other major central banks to cushion the economic impact of the outbreak. However, Vice Chair Clarida's remarks earlier this week gave little indication that the bias of the FOMC is shifting toward more easing in the coming weeks and months, noting that it is "too soon" to estimate the possible fallout. A number of regional Fed Presidents have echoed that position this week. Price action in Treasury markets is aligned with Warsh's viewpoint, reflecting a prompt return to easing by the Fed. The 10-year Treasury yield is now trading at 1.29% after yesterday breaking below the prior all-time intraday low of 1.32% registered during the global deflation scare of 2016. Treasury yield curves (the yield spread between Treasuries of differing maturities) remain flat, and in some cases inverted, which is considered a warning of impending recession. Meanwhile, futures markets are pricing in more than two Fed rate cuts by July and nearly 50% odds that the Fed starts lowering rates again at the March 18 meeting. Overseas, stimulus measures are being marshalled but the responses remain disparate. Germany is set to loosen its self-imposed fiscal straightjacket, China's central bank is adding accommodation, and Hong Kong's government is giving cash directly to its citizens in an attempt to cushion the economic impact of the virus. However, the Bank of Korea held rates steady overnight at 1.25% and a European Central Bank official stated that "more clarity" is needed before policymakers can confront "hard to understand implications" of the outbreak.
Additional Themes
UK Government Ups Ante with EU on Trade – The pound is slightly weaker versus the dollar this morning following news that Prime Minister Johnson's government is demanding that EU negotiators demonstrate a path to a post-Brexit trade deal by June or the UK will suspend negotiations. Previously, Johnson has stated that year-end is the hard deadline for a UK-EU trade deal, with EU officials and many analysts characterizing the timetable as wildly ambitious.
US Economic Data in Focus – The second revision of fourth quarter (Q4) GDP will be released this morning after the initial estimate showed that the US economy grew 2.1% to close out the year, the same as in Q3 and in-line with forecasts. January's durable goods orders are also due.