Summary and Price Action Rundown
Global risk asset prices were mixed overnight as investors ponder shifting Covid-19 infection and mortality figures out of China while awaiting key economic data. S&P 500 futures indicate a 0.2% gain at the open, which would bring the index back to Wednesday's latest record high. Investor optimism over apparently slowing infection rates and renewed production and other economic activity in China has helped spur US and global equities higher over the past week, but China's revised outbreak data has rekindled a degree of uncertainty. Overnight, equities in Asia posted disparate performance and EU stocks are little changed. Ahead of today's US economic data, Treasuries remain bid, with investor caution over the virus helping send yields back toward recent lows as the 10-year dips to 1.59%. The dollar, meanwhile, is continuing to hold steady after its year-to-date rally. Crude oil prices are extending yesterday's rebound, with Brent crude rallying above $57 per barrel.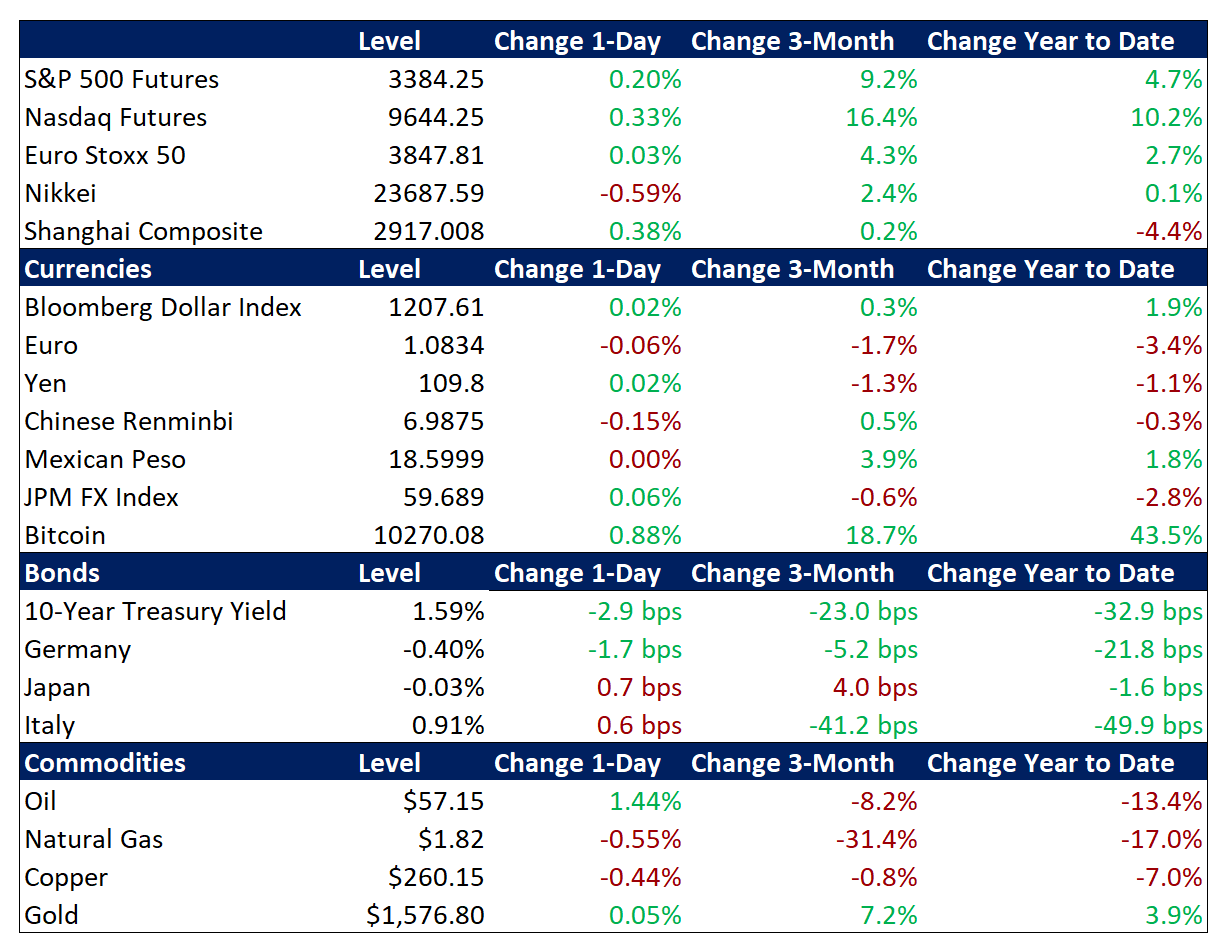 Coronavirus Worries Cede to Hopes for Containment
Market sentiment has steadied since yesterday morning as investors are taking China's dramatic upward revision in confirmed cases of the virus (now named Covid-19) as a one-off, although credibility of the data remains an issue. Optimism for containment of Covid-19 is again in ascendance in equity markets, although virus-related risk aversion has tended to be more acute on Fridays, given investor wariness over the potential for adverse headlines over the weekend when markets are closed. The past three Fridays have all featured US stock market declines. For now, at least, S&P 500 futures are in the green as investors monitor more changes in China's data on the outbreak, with the Chinese National Health Commission reducing the number of infected and the death toll by 1000 and 100, respectively, citing "double counting." For context, Chinese authorities announced overnight on Wednesday that the official number of cases of Covid-19 in Hubei province had increased by nearly 15,000 due to new diagnosis guidelines. Specifically, the World Health Organization indicates that Chinese officials have widened the definition of a confirmed case to include clinically diagnosed patients, whereas only lab-confirmed cases had been tallied in the past. Investors were not only concerned by the jump in contagion figures but also the correspondingly diminished credibility of official data. Now, total infections are reported to be 64,447 while fatalities have reached 1,384. The Shanghai Composite regained its footing after yesterday's 0.7% decline, rallying 0.4% to pare year-to-date losses to 4.4%. The renminbi, however, slid 0.2% versus the dollar overnight, continuing to edge lower from its strongest level of the month.
 Global Economic Data Remains Mixed
Analysts are awaiting US retail sales and industrial production figures for January, which are expected to convey a picture of uneven growth, while EU GDP disappointed. US retail sales for January will be the most closely-followed of this week's data points, given that the strength of the consumer has been the dependable engine of US economic growth. In December, retail sales increased 0.3% month-on-month (m/m), following 0.3% gains in both October and November, and January estimates are for a fourth straight month of this pace. Core retail sales, which exclude autos, gasoline, building materials and food services, jumped 0.5% m/m in December after falling 0.1% in November. Year-on-year, December retail sales grew 5.8%, topping November's 3.3% and representing the largest increase since August of 2018. For the full year of 2019, retail sales rose 3.6%, after a 5.0% percent gain in 2018, which was the fastest in six years and reflected a boost from tax cuts. Following that will come industrial production (IP) for January. Year-over-year, IP fell 1.0% in December, marking the fourth consecutive annualized monthly decrease. Meanwhile, the preliminary reading of EU fourth quarter GDP undershot estimates, registering a 0.9% expansion versus 1.0% expected. The euro, which is already at its weakest level versus the dollar since spring 2017, is holding steady this morning.
          Additional Themes
Fed in Focus – After Wednesday's conclusion of Fed Chair Powell's balanced Congressional testimony, investors monitored yesterday's hearings for President Trump's Fed board nominees, Judy Shelton and Christopher Waller. The focus was primarily on Shelton and after lengthy questioning regarding her views on Fed independence, the gold standard, and extraordinary easing, headlines later in the evening indicated that President Trump may withdraw her nomination. Lastly, analysts were attuned to news that the New York Fed is paring some of its liquidity provision programs to short-term funding markets, which suggests growing confidence among Fed officials that the stresses have been addressed.
Looking Ahead – Next week, global manufacturing purchasing managers' indexes (PMIs) are expected to show continued softness even before the full impact of the Covid-19 outbreak. The minutes of the Fed's January meeting are also due and China's central bank will decide on rates.