Summary and Price Action Rundown
Global risk assets were mixed overnight as investors grappled with risks of an escalating US-Iran conflict following last evening's missile attacks on Iraqi military sites housing US troops, but risk appetite is steadying this morning on measured rhetoric from Washington and Tehran. S&P 500 futures point to a 0.2% gain at the open, which would nearly retrace yesterday's moderate loss and keep the index within 0.5% of last Thursday's record high. Overnight, equities in Asia underperformed amid the uncertainty while stocks in the EU are rebounding ahead of President Trump's statement on the attacks, which is expected later this morning. The market mood remains cautious, however, with safe haven assets like Treasuries and gold retaining some gains while oil prices, which have been reflecting an increasing geopolitical risk premium, continue to move higher as well. Yields on 10-year Treasuries are hovering at 1.80%, within their multi-month range between 1.45% and 1.95%, while the dollar is edging above multi-month lows ahead of key US economic data (more below). Oil prices are fluctuating near multi-month highs, with Brent crude between $68 and $69 per barrel.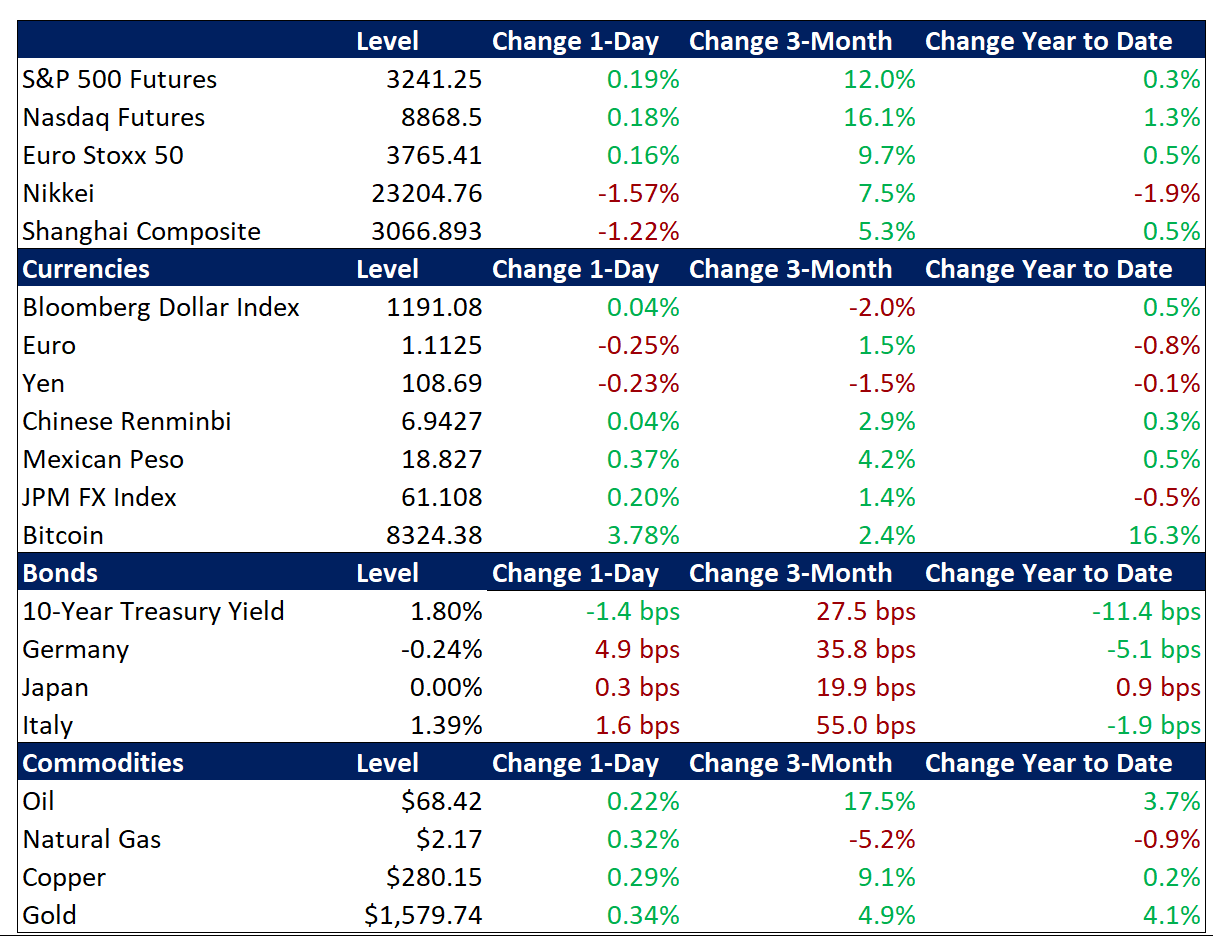 US Response to Iranian Missile Strike Awaited
Investor sentiment remains cautious after Iran's reprisal attacks targeting US troops in Iraq last evening but the lack of American casualties, limited nature of the strikes, and hints of de-escalatory intent on both sides are supporting optimism for cessation of hostilities. Last evening, global financial markets were roiled by reports of missile attacks on a number of Iraqi military installations housing US troops. Iran quickly took credit for the direct attacks, characterizing them specifically as a response to the US killing of Iranian General Soleimani late last week. Amid conflicting reports about US casualties and additional hostilities, S&P 500 futures were down nearly 2% and oil prices had spiked almost 5%, with Brent nearing $72 per barrel. For context, this price action was significant but far from extreme, and trading conditions remained orderly throughout. Sentiment began to recover later in the evening on reports of no American casualties and Iran's measured rhetoric regarding the attacks, which characterized them as proportionate and implied that no further action would be taken in the absence of a US counterstrike. President Trump further shored up investor sentiment last evening by tweeting "All is well" and "So far, so good" regarding the damage assessment and refraining from threats of any further escalation. This morning, analysts are noting that Iraq's Prime Minister stated that Iran pre-warned of the strikes, presumably in an effort to limit casualties. President Trump is set to make a statement this morning and investors will be highly sensitive to any indication that the White House is declining the opportunity to de-escalate and preparing a military response to last evening's strikes, which would rekindle fears of all-out war.
 Muddled Global Growth Figures Ahead of Key US Jobs Report
Yesterday's upside surprise in US service sector activity and a narrowing trade deficit are helping support the dollar versus the euro following weak German factory data. Last month, the ISM non-manufacturing purchasing managers' index (PMI) for the US increased to a four-month high of 55 from 53.9 in November and slightly beat market forecasts of 54.5. However, new orders, new export orders and employment slowed. Companies are positive about the potential Phase One resolution with China and reduction of tariffs, while noting that capacity constraints have eased, although a tight labor market remains a headwind. Meanwhile, the US trade deficit narrowed to $43.1 billion in November 2019 from a downwardly revised $46.9 billion gap in October and market expectations of a $43.8 billion shortfall. This is third straight month of narrowing, bringing the trade deficit to its lowest level since October 2016. This latest data put the US economy on track to grow around 2% in the 4th quarter, well above estimates over the summer of little to no growth. The dollar is advancing from roughly multi-month lows following the data, while Treasury yields bounced moderately as well. Meanwhile, German factory orders for November significantly undershot expectations, weighing on the euro.
          Additional Themes
Boeing Shares Fall After Crash – In what may be a disquieting coincidence, a Boeing 737 crashed shortly after taking off from Tehran last evening for Ukraine leaving no survivors. For context, this plane is the predecessor to the troubled 737 Max. Shares of the beleaguered US airline giant are down 1.7% in pre-market trading and are languishing near a two-year low.
 EU Pessimism on Brexit Hits the Pound – The pound is descending further below its recent one-year highs versus the dollar after a key EU official downplayed the likelihood of a comprehensive UK-EU trade deal in the timeframe targeted by Prime Minister Johnson. Newly-minted European Commission President von der Leyen stated that a full deal is impossible before the December 31, 2020 deadline that Johnson is imposing on the process, suggesting instead that a limited accord on key issues would be the more optimal approach.