Summary and Price Action Rundown
Global financial markets are mostly retreating anew after yesterday's rebound, as investors continue to grapple with deep uncertainty over whether government stimulus efforts can counteract the widening human and economic toll of the coronavirus outbreak. S&P 500 futures point to a 2.1% loss at the open, which would retrace a meaningful portion of yesterday's 4.9% rally that followed Monday's 7.6% plunge. Amid the wild swings, the index's year-to-date losses stand at 10.8%. This sharp back-and-forth price action continues the pattern from last week, as markets are driven by the waxing and waning of investor optimism over prospects for synchronized stimulus from global central banks and governments to counteract the economic costs of the coronavirus epidemic, with the start of an oil price war between Saudi and Russia over the weekend exacerbating the volatility. Equities in Asia and the EU were mixed overnight, while oil prices are turning lower again, with Brent crude sinking toward $36 per barrel. Meanwhile, Treasuries are resuming their historic rally, with the 10-year yield declining to 0.70%, and the dollar is settling lower amid questions over US fiscal stimulus.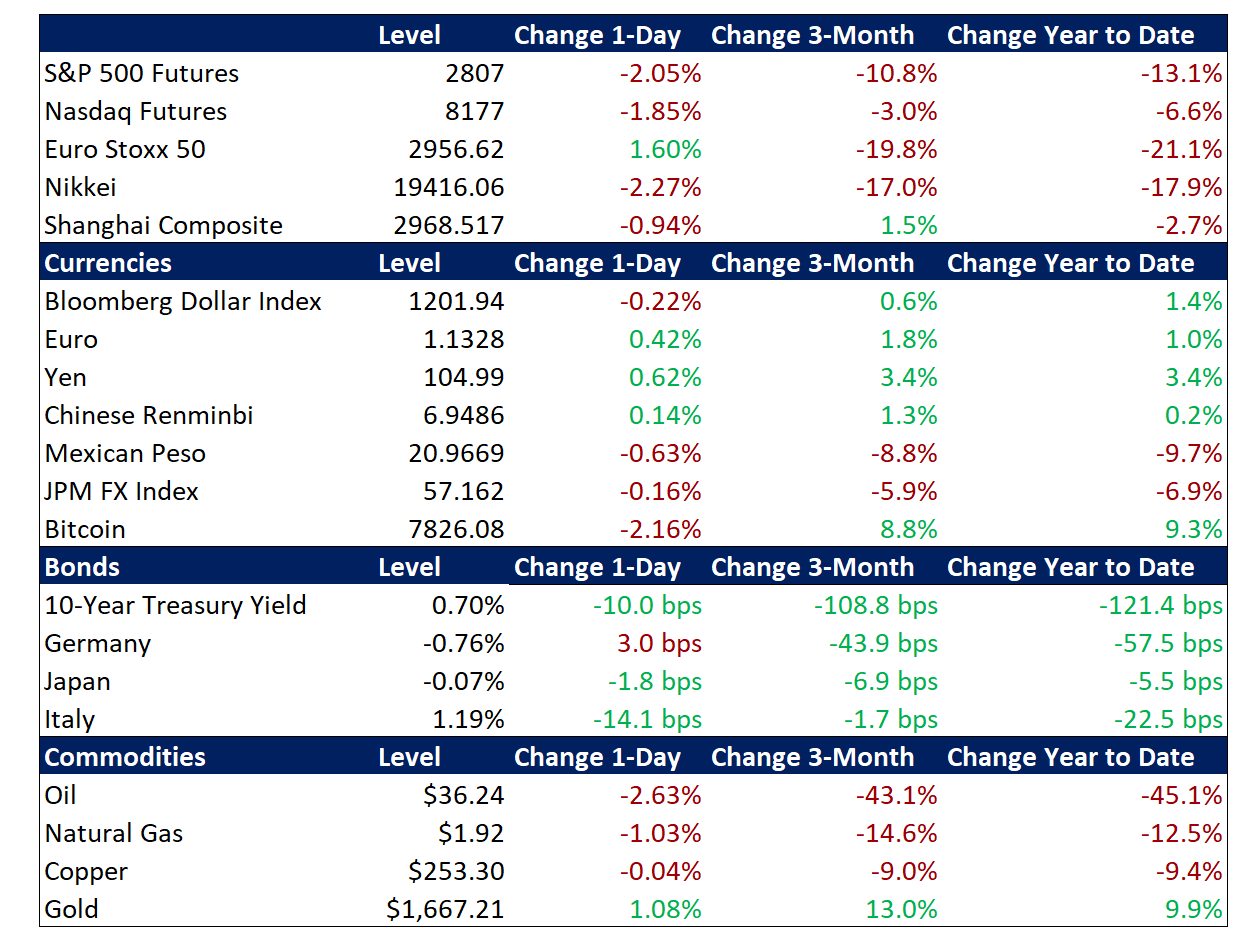 Global Central Banks Continue Enacting Proactive Stimulus  
Vigorous monetary accommodation is being deployed in an attempt to blunt the deepening economic impact of the coronavirus, with an emergency rate cut by the Bank of England this morning and further easing expected from the European Central Bank and Federal Reserve in the coming days. Though fiscal support is a key focus, given the expectation of diminished efficacy of monetary easing with rates already so low, central banks have been acting swiftly to frontload their easing. Earlier this morning, the Bank of England announced an emergency 50 basis point (bps) rate cut, bringing the policy rate to 0.25%. Governor Carney emphasized that the impact of the virus is likely to be temporary but noted that monetary policy can augment fiscal support, which is set to be announced today in the UK. Meanwhile, European Central Bank (ECB) President Lagarde issued a warning about the potential severity of the economic and market fallout from the virus, stating that it could equal the impact of the global financial crisis if not addressed properly. German Chancellor Merkel this morning is echoing Lagarde's call for a unified EU economic response. The ECB is set to cut rates and add to liquidity measures at tomorrow's meeting. The Fed has been upping its cash injections into short-term funding markets, while futures markets continue to price in steep interest rate cuts. Specifically, futures reflect 50 basis point (bps) of cuts by the March 18 Fed meeting, with around 75bps of total easing reflected by April. Some analysts project that rate cuts will be accompanied by the transformation of the ongoing asset purchase program into official quantitative easing.   
 Prospects for Fiscal Stimulus Remain in Focus 
On the assumption that fiscal support will be the most effective means for governments to diminish the human and economic toll of the outbreak, investors are highly attuned to US and overseas efforts to marshal strategic and significant government spending. Although President Trump did not fulfill his pledge to announce "very dramatic" economic stimulus measures yesterday, statements of intent, discussion of options, and signs of bipartisan support helped shore up shaky market sentiment in later trading, though risk aversion has re-intensified again overnight. Speculation over the timing and size of additional fiscal support following the initial $8 billion stimulus bill has been among the factors driving considerable swings in US equities over recent days. President Trump is reportedly pushing for a payroll tax cut through year-end, Secretary Mnuchin indicated that House Democrats were on board in principle with further budgetary support, and reports detailed deepening cooperation between federal agencies, the Fed, and Capitol Hill, including a potential consensus on extending the April 15 tax deadline. Overseas, fiscal stimulus measures are also ramping up in tandem. Australia announced a $10-13 billion spending package overnight, while Italy upped the program it announced yesterday to $28 billion, which includes tax credits to hard-hit companies as the EU provides fiscal leeway to the indebted country. Also, Japan is marshalling a $15.6 billion anti-virus budget and ECB President Lagarde demanded a fiscal response from EU leaders.
Additional Themes
Economic Impact Increasingly Evident – Japan's February machine tool orders sank to their lowest level since January 2013 as early datapoints continue to suggest a severe impact from the outbreak on global growth. Today's US inflation data for February will be discarded as stale, with Friday's release of March U. Michigan Consumer Sentiment to be among the earliest indicators of how the US economy is weathering the epidemic.
Oil Price Shock Reverberates – With oil prices relapsing again today and spreads on high yield energy credits widening to a four-year peak, nearly equaling the worst levels from the 2016 oil price crash, the White House is reportedly mulling support for shale oil producers.